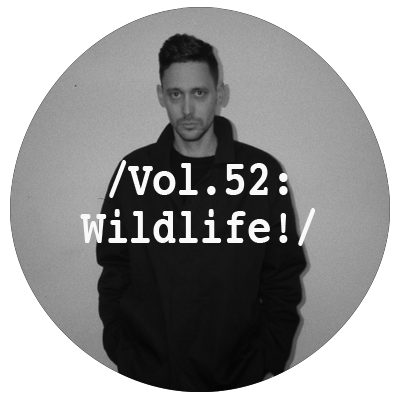 We are excited to welcome the artist behind one of our favourite releases of 2016 so far to take the reins for the latest volume of our mix series.
Switzerland-born, NY resident Samuel Riot, AKA Wildlife!, has been piquing our interest for a while now. Having first caught our attention with an arsenal of dancehall-leaning, high-octane club tracks, it is his latest effort, the 7-track 'Patterns' EP, which dropped earlier this year on Mixpak, that really made us stand up and take notice. Stripped-back yet full, brittle yet muscular, 'Patterns' is as focused as it is intricately crafted. The resulting record melts down its influences and rebuilds something that is dark, visceral and totally enthralling.
With the EP on repeat, we tapped Wildlife! up for a chat about the record, his working processes and the different projects he is currently working on. He has also delivered a killer mix that weaves together tracks from like-minded contemporaries such as 0comeups, Celestial Trax and v1984. Read the interview below and check out the mix underneath.
First up, can you briefly introduce yourself…
Samuel Riot, composer, producer, artist… born in Switzerland, currently residing in Brooklyn, NY.
You recently released your latest EP, 'Patterns', on Mixpak. How did you first hook up with them? And how did plans for the EP come about?
I've been following Mixpak since their beginnings in 2009. At some point, I guess it must have been around 2011, Dre Skull hit me up on AIM or Myspace or whatever was relevant at the time and we've more or less been in touch ever since. Over the years we've worked on a few smaller projects together—I've contributed tracks to the Mixpak Pressure compilation as well as a few of the Holiday Bundles, and released a "white label" EP with them. We also played shows together in Europe and in the states, so my relationship with the Mixpak crew developed into friendships when I moved to New York.
I've been working on these EP tracks for the larger part of fall/winter of last year without any concrete plans of releasing any of it. One night, me and Dre were hanging out at the studio, just listening to music and I played him some of the tracks. He liked them and so we started discussing doing a proper release with the label.
For those that haven't heard the new EP yet, what can they expect from it?
The press release reads as follows… "…a 7-track examination of the principles and constraints of club music – a series of experiments with divergent ideas of rhythm, bass and sound design. Often dark and unsettling, "Patterns" is made up of untrustworthy rhythms, a heavily industrial sound palette and machinic melody evocative of dystopian sci-fi. It is club music broken down into its various components and then deliberately reconstituted into something new."
One of the things that is immediately striking about the new EP is its sonic coherence. Did you approach it with a clear idea in mind or did it develop more organically?
When I set out to write this record I had a very precise idea of where I wanted it to sit sonically/aesthetically. That said, the writing process itself wasn't as straight forward as I was hoping it would be. I don't think I've ever written and then scrapped as much material before in my life. It took ages for what I was imagining this record to sound and feel like to materialize. So the whole process was long and rather painful but also a great learning experience, I think.
You recently translated the EP in to a sound installation. Can you tell us a bit about how that came about?
Over the past couple of years I got more and more interested in alternative modes of experiencing / presenting sonic stimuli in a spatial setting that's not necessarily bound to the rules and restrictions of a club. And since about 2012 (when I started my arts masters) I got more and more engaged with sound installation so it was just a natural progression to present "Patterns" as such. I love envisioning and then fabricating a spatial setting tailored to a musical composition. There are so many more parameters to control than a regular club setting allows for. At a club it usually boils down to sequencing tracks, which don't get me wrong is an art in itself and I respect the shit out of a great deejay set, but I just really enjoy the added freedom a gallery setting offers. You can basically control every single parameter of the space, from sound to lighting, even smell, to the way people move through it etc. It not only extends and translates the music into an actual space but it allows you as a composer to apply the processes of crafting a record—which in my case for the biggest part happens in the virtual realm of my laptop—to an IRL space.
When you are making music, are different forms of media present in your creative process?
I would say not literally. But when writing I usually have abstract imaginary spaces, locations or sceneries in mind and these spaces almost serve as sort of mood boards for me. So when writing I try to translate how those imaginary locations look and feel into sound and music.
You also make music as Young Palace. How do you separate the different projects when you sit down to make music?
When I set out to write music I usually have a pretty set idea of where I want a record to sit sonically, so I pretty much know whether I'm going to write a Young Palace record or a Wildlife! record. The Young Palace stuff is completely freed of restraints to functionality—I allow myself to disregard structure and form and focus primarily on sound itself. So often these composition are governed by a certain sonic aesthetic and the way it organically develops as I examine it, as opposed to parameters like time signature, bpm, grid, tonality etc. With the Wildlife! material I try to maintain a certain proximity to traditional track or song structures, so that a tune at least theoretically could be mixed and played in a deejay set or function in a "song-adjacent" context.
Looking forward, what have you got coming up over the next few months? Any other plans you would like to talk about?
I'm working on a new Wildlife! record and there might be a new Young Palace record in 2017 as well and it's very likely that some of this material will find it's way in one form or another into a gallery setting. Aside from my own records I'm also working on a few scores for visual artists as well as production for a couple projects I currently can't talk about.
Can you talk us through the mix that you have put together for us a bit…How and where was it recorded? Is it a fair representation of what people can expect to hear from you if they go see you play in a club?
I recorded the mix at Mixpak Studios in Brooklyn. Summer in New York is both merciless and fucking amazing. The heat and humidity are at times unbearable but when everybody flees for their summer homes in July and August, the city starts to feel almost calm, deserted… There's a certain dystopian quality to the empty streets on an insanely hot summer day and I absolutely love the vibe. It's one of my favorite things about NY. This past week the weather has started to get a little cooler so this mix makes for an appropriate soundtrack to enjoy the last warm days of the year and reminisce of past summer adventures. I stopped deejaying altogether about a year ago, so people shouldn't expect to hear much from me as far as clubs are concerned.
LIMINAL SOUNDS VOL.53: WILDLIFE!
DOWNLOAD: HERE
Tracklist:
Arca – Peonies (Mute)
Helm – Sky Wax NYC (PAN)
Tim Hecker – Music Of The Air (4AD)
v1984 – Crying Beneath The Surface Of The Ocean As The Sunset's Rays Flicker Into The Indefinite Horizon (Glacial Industries)
0comeups – Texting On The Roof (PTP)
Sky H1 – Tell Me – (Codes)
N-Prolenta – Rush (a humor) – (PTP)
M.E.S.H. – Victim Lord (PAN)
LinG – Blue (Codes)
Sami Baha – Chunk (Planet Mu)
Geng – Erode Riddim (White)
Forever – Playfights (Letta Remix) (White)
Celestial Trax – Bodily (PTP)
Wwwings – Chimera (PTP)
City & Bru – I Want You To Hurt Me (Classical Trax)
v1984 – SP fINAL TAP re-JUVENescence (White)
Photo credit: Tony Lowe