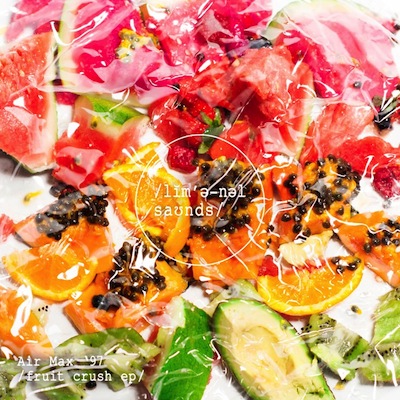 AIR MAX '97 – FRUIT CRUSH EP
(LIMINAL SOUNDS – LMNL005)
A1. Fruit Crush
A2. Shape Cut
B. Armour Form ft. Strict Face
Release Date: Mon 26th Jan 2015
Format: 12" / Digital Download
We are extremely pleased to welcome Air Max '97 back to the label for the follow-up to his acclaimed debut EP, 'Progress and Memory'. The three-track 'Fruit Crush' EP is brimming with the same off-kilter energy and crystalline melodies that characterised his aforementioned debut, while showcasing a clear progression in his sound.
This evolution is immediately evident in the eponymous track, which is an energetic mix of tumbling drums, vibrant synths, pulsing bass tones and twisted vocals that is as addictive as it is utterly alien. The slower 'Shape Cut' follows, painting similarly playful strokes of colour with the carefully manipulated vocal over a watertight, low-slung rhythm.
On the flip is 'Armour Form', a collaborative effort with fellow Australia-based producer Strict Face who has been receiving praise for his melodic and emotive take on grime, as heard on recent releases for Gobstopper Recs, Tuff Wax and Different Circles. Here the two producers are perfectly matched and can be heard in equal measure as they craft an intense club-grime hybrid that balances scattershot snares and plunging bass against sharp synths.