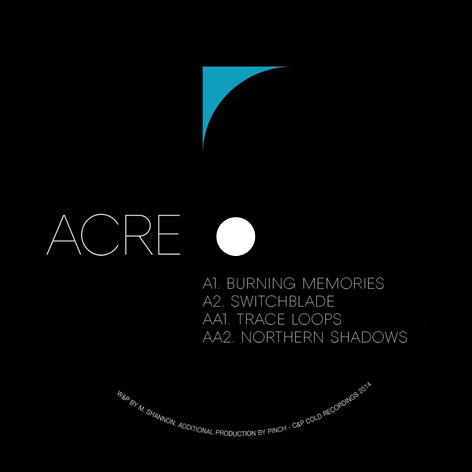 Following his contribution to the 'Tectonic Plates Vol.4' compilation last year, Pinch has recruited Manchester based producer Acre as the latest artist to joining his burgeoning vinyl-only sister label Cold Recordings. Rooted in the rawest and darkest underground sounds, the searing 'Burning Memories' EP is constructed from splintered shards of techno, grime and jungle, making it a natural addition to the imprint's discography and one that puts Acre ahead of the pack.
The title track is a powerfully disorienting entrance to the EP. Submerged in a throb of viscous synths that threaten to dissolve the remnants of drum breaks that cut through it, 'Burning Memories' swells and sways through the speakers with remarkable power. This is followed by EP highlight, 'Switchblade'. Anchored by the industrial bass pulse that rips through it, the track lurches forward purposefully as warped arpeggios wrap themselves around the clatter of percussion. On the flip, 'Trace Loops' is a more subdued and spacious production, carrying over the same sense of submersion into a hypnotic rhythmic pulse, while 'Northern Shadows' spits out coded synths over a pummelling kick pattern to sinister effect.
'Burning Memories' is out now on Cold Recordings. I also recommend checking out Acre's recent mix for Hyponik, which provides a deeper insight into the varied influences that feed in to his music.