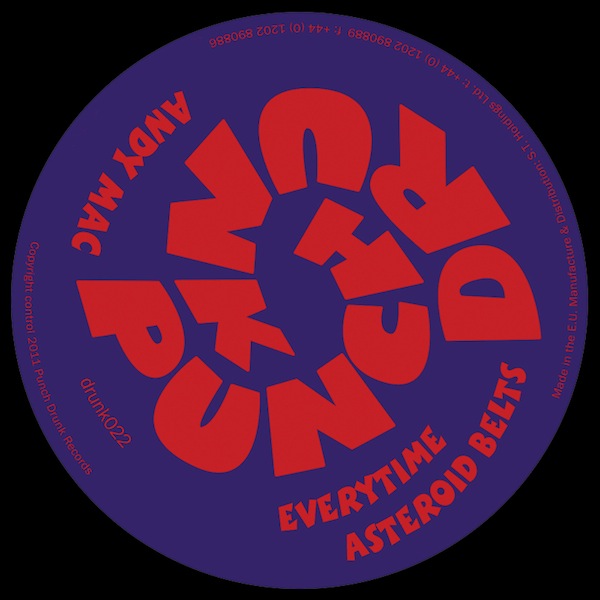 ANDY MAC – EVERYTIME EP
(PUNCH DRUNK – DRUNK022)
1. Andy Mac – Everytime
2. Andy Mac – Asteroid Belts
Release Date: Mon 9th May
Following Kahn's triumphant 12″ debut for the label back in February, Peverelist introduces yet another new Bristol talent to the wider world with the debut release from Andy Mac, whose track 'Everytime' has been a staple at forward-thinking club nights in Bristol for the last year. Imbued with the spirit of classic 90s house, Mac refracts these smooth and soulful influences through the darker, skewed lens of the Punch Drunk cannon, re-sculpting them into curiously otherworldly and hypnotic shapes.
Introduced by the warm thud of the kick drum, muted synth hues, echoing vocals and pervasive crackle, the start of 'Everytime' wears the sound of its predecessors on its sleeve. However, it soon morphs into an altogether different entity as the sharp 2-step whip and broken percussion slice the track open, revealing a spiraling sense of space that holds the elements together with an icy magnetism. Driven by the insistence of the sharp swing of the rhythm and sub pressure, the mesmeric rise and fall of the central hook remains a pivot around which the constantly evolving percussive layers secure themselves, before the elements dissapate into the surrounding space leaving nothing but the crackle left to play it out.
'Asteroid Belts' takes a more linear house approach, slowing the tempo and allowing the heavy kick pattern to anchor the track, building the groove from the shifting layers of hi-hats, shakers and snares that are offset against each other as they swing through the foundations of the track. The slow pulse of the swolen subs, stretched out synth shapes and languorously echoing vocals then take this into similarly late night territory as 'Everytime', as the track marches decisively into the early hours of the morning.
This is an intriguing introduction to a new producer and a quality addition to the Punch Drunk discography that more than holds its own.
*You can listen to clips of a forthcoming release from Bass Clef on their soundcloud now!
Andy Mac 'Everytime' (Punch Drunk Records) by Punch Drunk Records
Andy Mac 'Asteroid Belts' (Punch Drunk Records) by Punch Drunk Records