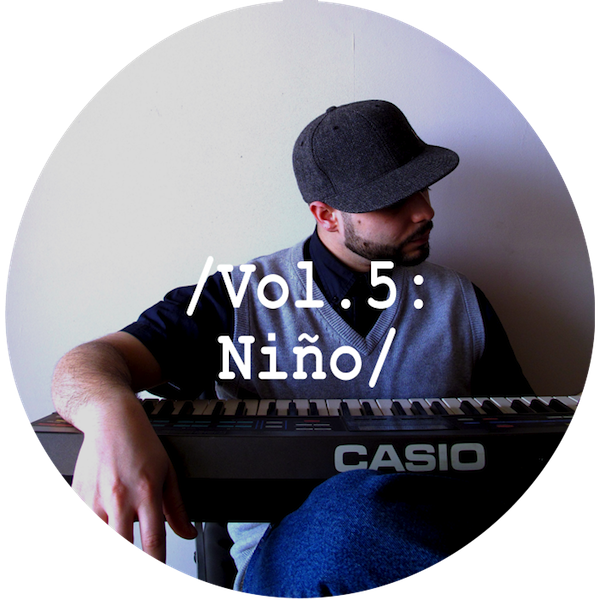 Having began in the summer of 2009 as a Brighton-based club night endorsing mutant hip hop variants and left-of-centre bass music, the Donky Pitch family became a record label last summer with the release of the brilliant 'Donky Stomp' EP. Featuring contributions from residents Slugabed and Ghost Mutt as well as a remix from Mweslee, they came out of the blocks hard with their first release – In fact, I was so enamoured with it that I made sure I interviewed Ghost Mutt after hearing it.
For the second Donky Pitch release they have found a worthy successor in Barcelona-based beatsmith Niño who delivers five tracks of brilliantly hyperactive synth-driven hip hop. Exploding with rattling drum lines, warped low end and sun-soaked synths, the EP gives a nod to classic RnB, funk and boogie influences while melting them all down into one satisfyingly indescribable and addictive sonic whirlwind. From the juddering opener 'Buio Omega' through the buoyant title track to the driving 'Bright Lights, Big City', the EP jumps schizophrenically from one track to the next, tied together by the frenetic synth work, cavernous drums and low slung funk.
DKY002 Niño – Clase de 1984 EP tasty taster by Donky Pitch
The EP also comes with a brilliant selection of remixes from extended friends and family. Big Dada signing Offshore strips away the layers from 'Buio Omega' to give it a hard bounce, Kelpe tightens the screws on 'Innsmouth' building it around the tumbling swing of the drums and newcomer Krsur gives 'Bright Lights, Big City' a brilliant West Coast Cali swagger.
In celebration of the release, Niño has kindly obliged in putting together the long overdue (but well worth the wait) fifth installment in the Liminal Sounds mix series with the 'Clase de 1984 mix'. Packed with kindred musical spirits, the mix travels through the likes of Rustie, Lunice, Slugabed and Krsur via a modest smattering of his own productions and remixes. Listen and download it below!
LIMINAL SOUNDS 05: NIÑO
DOWNLOAD: HERE
01 – Rustie – Neko
02 – Hourglass Sea – Another World
03 – Randy Barracuda feat. Michael Black Electro – Love Axe/Heavy Metal
04 – DZA/Montee Clunk – ????
05 – Lunice – Fancy Forty (Rustie Remix)
06 – Niño – Buio Omega (Offshore Remix)
07 – Ghost Mutt – Wizard Sleeve
08 – KRSUR – Youíre So Glow (Niño Remix)
09 – Hudson Mohawke – ZOo00OOm
10 – Niño – Clase de 1984
11 – Slugabed – Donky Stomp (Mweslee Remix)
12 – La Roux – In For The Kill (Slugabed Rekindle)
13 – Krsur – Useless Wooden Toys
14 – Brandy – What About Us
15 – Brandy feat. Monica – The Boy Is Mine (Boss Kite Remix)
16 – 813 – Sale In Brain
-NIÑO 'CLASE DE 1984' EP IS OUT ON DONKY PITCH ON MON 23RD MAY