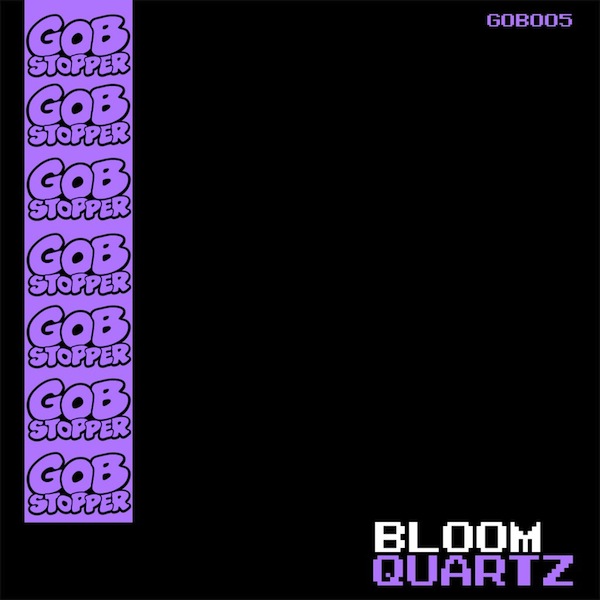 BLOOM – QUARTZ
(GOBSTOPPER RECORDS – GOB005)
1. Bloom – Quartz
2. Bloom – Quartz (Starkey Remix)
3. Bloom – Quartz (Slackk Remix)
Release Date: Fri 3rd Aug
Having spent a long while pretty disenchanted with instrumental grime and rueing its unfulfilled promise, the last eighteen months have seen things get a whole lot more interesting once again. Producers like Visionist, Logos and Samename are taking the guantlet laid down by grime's pioneers and evolving it as they push their sound into new territory, rhythmically, sonically and viscerally pushing the boundaries that it so brilliantly disolved at its peak. The debut release from Dublin-based producer Bloom on Mr Mitch's Gobstopper label is up there with all of the above. Already being hailed as grime track of the year, it seems like Bloom is going to be one to keep a keen eye on (Check out new track Maze Temple for further indication of his talents). Backed by standout remixes from Starkey and Slackk, the EP is about as good a grime package as you are likely to hear all year.
As his recent mix for Sonic Router (Bloom – Sonic Router x Uncle Albert Mix) articulates so well, Bloom's influences spill out of grime into some of its more esoteric satellites in a way that makes very clear connections between them. Featuring tracks from Actress, T-Polar and Brey alongside those of Wiley, Mr Mitch and Bok Bok, it give a better context in which to understand the nature of his production. At once relishing in grime in its most fierce, sonically guttural form and exploring its more abstract possibilities, Bloom distils the idiosyncratic genius of grime at its most potent. Letting gun shots ricochet through the track's tumbling percussion, he allows it to splinter into a million incisive shards that cut through the mix with equal brutality. With its stinging bass pulses, warping square-wave synths and a couple of screws loose 'Quartz' is manic, deranged and totally enthralling.
First up on remix duties is Seclusiasis main man Starkey who steps up to provide his take on it. Supercharging the synths with some of grime's operatic grandeur, the militaristic swing of the drums, deep subs and smashing glass power his tough 8-bar rework. Alongside him, Slackk provides his alternative imagining on the original fresh from his stellar 'Raw Missions' EP for Local Action. Upping the tempo to 160bpm, Slackk irons out the rhythmic kinks and flailing synths channeling them into a hyperkinetic rhythm track that channels his ongoing fascination with footwork. Driven by the galloping snares and plunging bass pulses, the detuned synths and arcade sound flourishes ensure the track maintains its dark side with a renewed urgency.