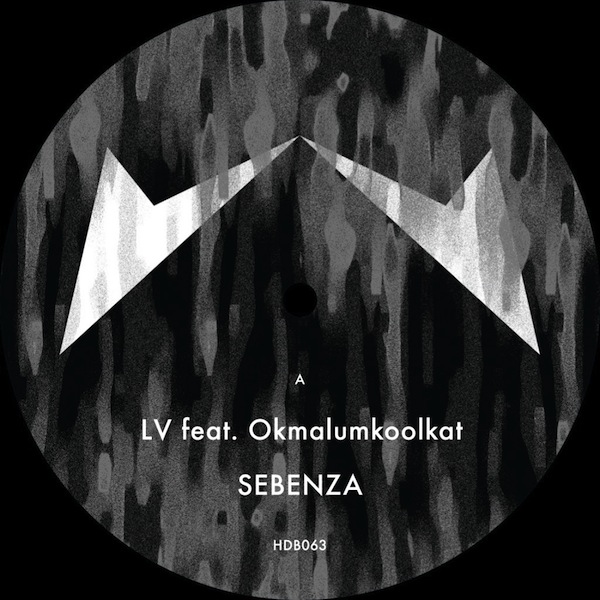 LV – GET A GRIP EP
(HYPERDUB – HDB063)
1. LV – Sebenza ft. Okmalumkoolkat
2. LV – Get A Grip ft. Mumdance
3. LV – Zulu Compurar ft. Okmalumkoolkat
Release Date: Mon 23rd July
It seems fitting that following their outstanding London-centric debut LP 'Routes' for Blackdown's Keysound Recordings imprint last year, production trio LV are returning to Hyperdub with their sophomore effort, this time exploring a more global sound driven by their ongoing fascination with South African house and Kwaito. Pitched as 'South London meets South Africa' 'Sebenza' is set to drop at the end of August and will feature the results of several trips out to South Africa over the last couple of years including sessions with MCs Okmalumkoolkat, Furrest and Spoek Mathambo.  The first taste of the fruits of that work comes in the form of the three track 'Get A Grip' EP which came out this week.
Featuring two tracks with the undeniably charismatic and eccentric MC Okmalumkoolkat, who they worked with on killer 2010 single 'Boomslang', as well as an instrumental collaboration with Mumdance, LV here showcase their ability to draw lines between UK soundsystem culture and a melange of global influences with aplomb. Rather than reflecting their inspirations in any literal manner and letting them overpower the tracks, they dissect and re-appropriate them with a nuanced touch that articulates their own identity in an entirely idiosyncratic and often thrilling way.
Led by the refrain of 'Sebenza only rest in December' (Sebenza meaning work), the jittery percussive skeleton, woozy chords and powerful subs on the aptly titled 'Sebenza' flutter  with restless energy. Built with a lightness of touch that barely lets the track touches the ground for even a second, Okmalumkoolkat's slow, slurred vocals ease themselves into the slightly jarring, footwork groove of the track.  On the title track 'Get A Grip', which is incidentally the only track of the three that will not feature on the album, LV team up with Mumdance to explore a more direct approach. With its snare-heavy tribal swagger, squirming synths and sharp bass tones, it doesn't so much wriggle its way into your body as order you to move. LV then team up with Okmalumkoolkat again on 'Zulu Comparar', who here takes on his fictional Nathan Barley-esque alias of the same name. Easing the pace, the rhythm sits back on itself as 808 toms, low-slung bass and winding synth strokes build a simple but effective groove which Okmalumkoolkat laces with a patchwork of boasts and digital age cultural references.