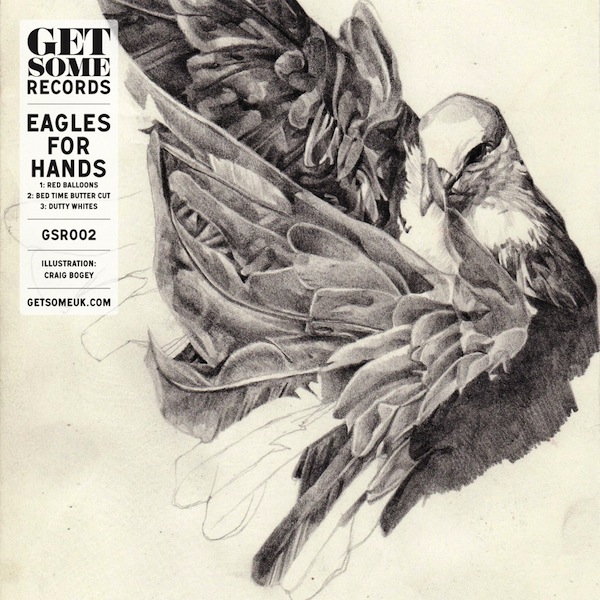 EAGLES FOR HANDS – EAGLES FOR HANDS
(GET SOME RECORDS – GSR002)
A. Eagles For Hands – Red Balloons
B. Eagles For Hands – Bedtime Buttercut
C. Eagles For Hands – Dutty Whites
Release Date: Mon 22nd Aug
Having built a reputation for themselves with their finely tuned blog showcasing a wealth of underground UK talent, the Get Some stable lay down the gauntlet with their inaugural release courtesy of Brighton-based multi-instrumentalist and producer Eagles For Hands. Since the blog's inception in Autumn 2009, they have endeavoured to shine a light on new talent, pushing good music irrespective of genre, and have clearly brought this open-minded and forward-thinking attitude to the label. The three-track self-titled EP bears the marks of an impressively mature and refined sound that rides the line between the dancefloor and its dissipating memory on the way home from a club.
'Red Balloons' opens on soft keys and the muffled swell of drums, delicately introducing new textures and faint whispers of the melodies to come, before exploding in colour with fidgety synth smudges flying across the drums and a smooth, elastic bassline that swings beneath. Restless in its arrangement, layers wind there way through the track leaving a trail of new details in their wake to be discovered each time you return to it, brilliant balancing between the somber expanses that lie low in the track and the rapturous relief provided by the track's climatic moments.
'Bedtime Buttercut' dives straight back in using the sharply swung drums to draw in the synth stabs and create a locked groove that sways over the bass surges. As the track builds, ecstatic glimmers of melody flicker above with an irresistible feeling of weightlessness. 'Dutty Whites' rounds off the EP taking the same jittery synths and prismatic bursts of colour but rewiring them to a different end. Playing with the rhythmic tropes of dancehall to give the track its bump, hazy synths sweep the track along as light-footed synths dance over the top, lost in the expanse of atmospheres.
This is a very promising debut from both a label and a producer that you would do well to keep your eyes and ears tuned in to.
Eagles For Hands EP (GSR002) by GET SOME UK
Make sure you check out the promo mix that they have put together for the occasion as well: