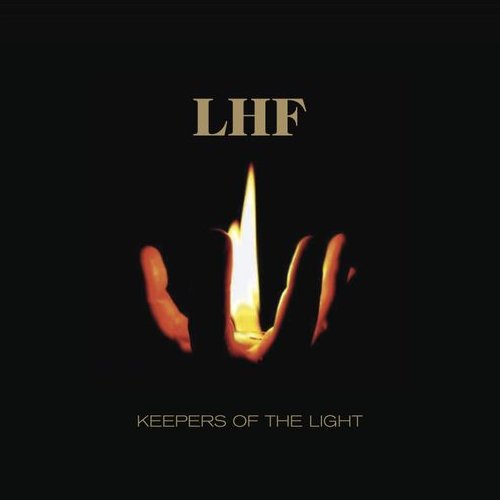 LHF – KEEPERS OF THE LIGHT
(KEYSOUND RECORDINGS – LDN029CD)
Release Date: Mon 2nd April 2012
Through his many roles – Rinse FM DJ, producer, label head and scene commentator to name a few – Martin 'Blackdown' Clark has consistently proved himself a reliable barometer for the most forward-thinking and exciting sounds emanating from the underground, so when he started extolling the virtues of hitherto unknown and mysterious collective LHF with such emphatic statements as "LHF sound like Sun Ra has hijacked Rinse FM and is using it to communicate with the heavens", you could be sure that this was the beginning of something special. A trilogy of impressive EPs down the line, albeit none the wiser about the indefinable group, they are now set to unlock a plethora of material from their mythical vaults with the release of their debut album on Clark's Keysound imprint. The 2 CD 'Keepers of the Light' album certainly doesn't hold back either, offering the most comprehensive insight into their world yet with 26 dense, woozy and dizzying transmissions from their lab.
The collective whose number includes Amen Ra, Double Helix, No Fixed Abode, Low Density Matter, Octaviour, Escobar Seasons, Solar Man and Lumin Project but whose rolls remain largely unclear, are an intriguing entity and incomparable to pretty much anything else going on at the moment. Having created a seemingly hermetically sealed world for themselves they have built an extensive back catalogue of material that rewires the DNA of the UK's rich heritage in underground music through a decidedly global and inclusive outlook. While largely working around the fundamentals of soundsystem culture from hardcore to jungle, dancehall to dubstep, they are not afraid to borrow and re-appropriate influences from all corners of the musical spectrum, fusing those disparate particles into something intense, otherworldly and completely unique. On the album four of the collective contribute as producers, both singularly and collaboratively. Each bringing a distinctly individual essence to the project, it is only collectively that you get the most complete vision as to the forces at work.
No Fixed Abode's Eastern-influenced psychedelia channels the buzzing cross signals of London into bustling, humid productions. Vibrant, disorientating and percussively boisterous, the tracks harness the diversity of the London surroundings caught between pirate radio frequencies and refracting them through a cultural prism. 'Indian Street Slang', which featured on the latest 'EP 3: Cities of Technology', is perhaps the boldest and most captivating of his outings on the album. Built around the scuffed percussive shuffle, layers of decaying instrumentation and a thick fog of atmospheres creep around that central vocal sample, equal parts mellifluous classicism and discordant futurism. In contrast, Low Density Matter's productions find a lot more space in which to operate, disregarding that bustle for something much more meditative. Defined by their percussive propulsion and pure bassweight, the smoky jazz inflections recall the dubbed out atmospheres of early DMZ records spun with an otherworldly flavour. The scuffed breaks and panoramic pads on 'Questions' recall early Metalheadz while 'Blue Steel', which featured on 'EP2 – Enter The Silence', works a tribal shuffle against cascading melodies and soft, warm keys.
Offering up another personality, Amen Ra, who features most prominently on the album alongside Double Helix, explores a sharper, more synth heavy sound. Veering from dubstep to hip hop to jungle, he brings into focus many of the different parts that constitute the whole, breaking apart the dense weight of musical history that lies within his tracks and rebuilding them in pure incarnations. Jumping from the sun-kissed funk of 'Candy Rain' with its euphoric naivety to the galloping Wurlitzer melodies of 'Simple Things' or the crystalline synths of 'Akashic Visions', Amen Ra handles each new perspective deftly, while adeptly holding on to his own throughout. 'From When We Came' enters the heart of darkness with its whirring fx, rapidfire tribal percussion and deep sub swells while 'Essence Investigation' disappears down a rabbit hole of tumbling breaks, squirming jazz touches and marching bass pulsations that disarms the listener into submission.
Equally Double Helix works with a really broad palette of samples, burrowing  into new territory with each track and holding them all together with the expansive sci-fi atmospheres and razor sharp percussion. 'Supreme Architecture' rides an unbroken procession of eastern percussion that is the conduit for the eerie melodic touches and otherworldly vocal chants. 'LDN' is sparser still recalling early dubstep in its murky atmospheres and deep subs whilst maintaining a rhythm that seems to be its own master while tracks like  'Chamber of Light' and 'Voyages' explore the potency of the sound when worked in the right way. He channels the spirit of jungle through the tumbling drum hits on 'No Worries' or the iconic sample and tightly wound percussion on 'Bass 2 Dark' while 'Inferno' travels further back to hardcore and acid house territory whilst remaining resolutely not of this world.
Spread languorously over 2 CDs and with 26 tracks on offer, 'Keepers Of The Light' is not an easy listen. However, you get this feeling that this is precisely the intention. The longer you immerse yourself in their world, the more wholly you get caught up in it and the harder it becomes to find your way out of the labyrinthine corridors of their burgeoning vaults. Intense, disorientating and full of life, it will leave you breathless.
CD.1:
1. No Fixed Abode – Secret Lagoon
2. Amen Ra and Double Helix – Steelz
3. Amen Ra – Candy Rain
4. No Fixed Abode – Sunset (Mumbai Slum Edition)
5. Amen Ra – Essence Investigation
6. Double Helix – Supreme Architecture
7. Double Helix – LDN
8. Double Helix feat Low Density Matter – Rush
9. Low Density Matter – Questions
10. Low Density Matter – Blue Steel
11. Amen Ra – Simple Things
12. Amen Ra – Low Maintenance
CD.2:
1. No Fixed Abode – Strangelands
2. Amen Ra – From Whence We Came
3. Amen Ra feat Double Helix – Broken Glass
4. No Fixed Abode – Indian Street Slang
5. Amen Ra – Fairytales
6. Amen Ra – Akashic Visions
7. Amen Ra – Hidden Life Force 2
8. Double Helix – No Worries
9. Double Helix – Bass 2 Dark
10. Double Helix – Chamber Of Light
11. Double Helix – Inferno
12. Double Helix – Deep Life
13. Double Helix – Voyages
14. Amen Ra – One Toke Wonder