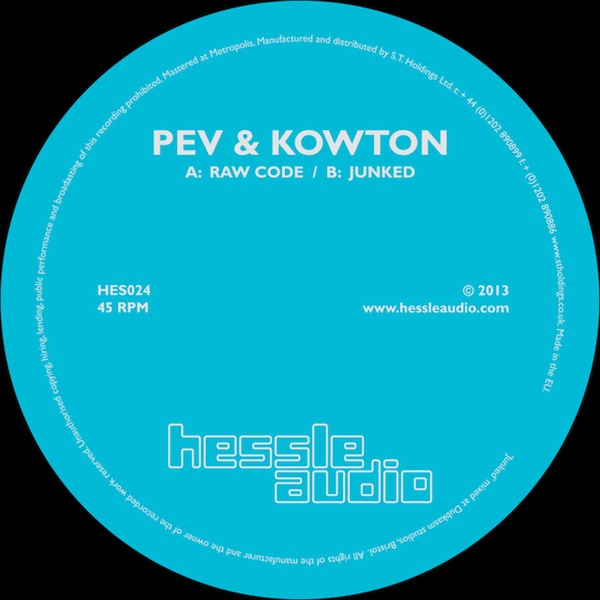 PEV & KOWTON – RAW CODE / JUNKED
(HESSLE AUDIO – HES024)
1. Pev & Kowton – Raw Code
2. Pev & Kowton – Junked
Release Date: Mon 11th Feb
Following EPs from label founders Pearson Sound and Pangaea, Hessle Audio open their account for 2013 with a collaborative single from fellow Bristol residents, like-minded experimenters and frequent collaborators Peverelist & Kowton. The announcement should come as no surprise given that the pair have long been part of Hessle's extended family, but while Peverelist has appeared on the label before with the ruthless 'Dance Til The Police Come / Fundamentals' 12", this marks a long overdue debut for Kowton.
Having spent the last couple of years working closely together on the Livity Sound label and live project, the synergy between the two is marked and the results are fierce. These two tracks find their footing at the charged meeting point between their individual projects, uniting Kowton's recent experiments with the brutality of grime with Peverelist's restless rhythms and ghostly melodies.
Having been doing the rounds for a little while, 'Raw Code' has lost none of its immediacy or insistency. Driven by its powerful percussive muscle and metallic palette, the plunging subs form a more elastic counterpoint that helps to keep things limber, while the addition of a synthetic wind instrument melody provides an otherworldly emotion to the track's otherwise steely glare. On the flip 'Junked' is a further reduction, pivoting around its snaking percussive skeleton and often left to little more than a kick and a hi-hat. Here the push and pull between the tracks components is everything and the tense energy is palpable. When let loose at the right moment, one senses that this track has the potential to take apart a dancefloor entirely.
While others continue to be waylaid by new and increasingly rapid trend cycles, here we have two producers operating in their own sphere entirely. In much the same way that Hessle has eschewed any reliance on outside forces, there is a sense of single-minded focus to these tracks that pays dividends – Deep, dark and deadly soundsystem music.