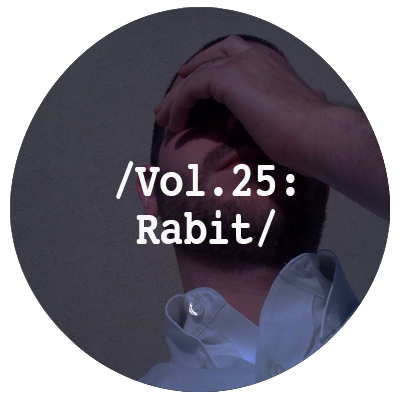 The sole agenda for Liminal Sounds has always been to present the music that excites us and to give a voice to artists that we feel need to be heard; so having staggered and swayed our way to the 25th volume in our mix series, we are over the moon to give the platform to an artist that embodies precisely this, Rabit.
Like recent mix series contributor Samename, Rabit uses the foundations laid by grime's elders as a jumping-off point for his productions, but in very different ways. Fragmented, brutal and otherworldly, Rabit's productions are visceral and cinematic in equal measures. A labyrinthine path through his influences, from Tricky to Shackleton, RZA to Wiley, his music feel studied and precise without ever coming across as cold or flat, with an intensity of emotion that cuts right through everything he makes. Geographically removed from many of the sounds and scenes that have inspired him, his tracks benefit from that disassociation, abstracted into new and brilliant forms.
Having just announced his contribution to the forthcoming 'This Is How We Roll' Keysound compilation and with an EP being prepped as the inaugural release on the promising Glacial Sound label, 2013 looks set to be the year that his music makes the impact that it deserves. 'Satellite', which is scheduled for release on the aforementioned Keysound comp, is a good example of the dark foces at work in his music bringing the sparse ferocity of grime to a new plateau, crafting a stinging dystopian vision of the sound. Alternately the three tracks that make up 'Double Dragon' are jittery, seething assaults on the senses. Dig further and you will find a whole wealth of equally idiosyncratic and enigmatic music from his vaults, a search for which you will be fully rewarded with the results.
The interview below reveals an acerbic mind and dedication to his craft that is so often missing in other producers, while the mix he has put together paints an exciting picture of instrumental grime and its twisting offshoots in 2013, running music from Parker, Wen, Sepia, Strict Face and more. Without further ado, here is Rabit…
First up, for those who may not already be aware can you please briefly introduce yourself…
The name's Rabit, I went by a few names through the years making music, there's a story behind it but that's not for here. I live in the US, Houston, Texas to be exact, but I'm from the east coast.
To start by getting a better idea of the context to your music, what music did you grow up on? And how has that evolved over time to where you are at now?
As far as the music I grew up on, there's a lot. From a young age I went to the roller skating rink and the freestyle music was big on the east coast at the time, probably my first big influence, Let The Music Play, a lot of Afrika Bambaataa, Mantronix, drum machine sounds and patterns. Which I think is reflected in my sound at times even now, definitely broken but the similar rhythms are there. My sister always had tapes playing at home, some rap, Boogie Down Productions, some freestyle music. Later on, I remember being in a car with my older sister and a friend of her's, and they had the purple tape, Cuban Linx, and it was like a mystical thing, hearing the beats for the first time, the lyrics which seemed liked they came from another world, and they still do. I loved how the whole thing painted a picture. It was just as visual as the comic books I was reading and drawing at the time. I hear that a lot about my music from people now, that it's epic, visual, kind of like a movie, and I think I owe that to that era of rap music. The Ironman album, album's like that aren't being made anymore, the time they took, the attention to detail, how the whole thing was a running story, and it wasn't like anything else.
I always listened to dark music, I may have had a wide range of music I was listening to growing up, but it was always dark. From jamming everything the RZA produced, I naturally started getting into darker material, Tricky, Aphex Twin. Those are two artists I grew up listening to a lot, dropping acid and listening to Aphex Twin all night, me and my best friend would go to the warehouse parties just so we could score acid, then we would drive back to our town and listen to jungle in the park, smoking weed just listening to tapes all night. For a year or two I went to the parties, mostly Jungle parties in Philadelphia, there was an okay scene and there were still quality records being made, but it was getting corporate around that time, the real rave scene was dead, it was pretty much an excuse to go do drugs. There were independent parties but they started getting raided and things like that. I remember seeing Dillinja spin, a few other legendary names but I was mostly just into the drugs I could find there and looking for an excuse to stay out all night so I could write graffiti. I would buy the jungle tapes but to me they weren't even individual tunes, it was just like an hour of rollers….basslines, rolling drums.
So fast forward some years and I was getting heavy into beat tapes… I got a drum machine. I had a table, a cd player, and an mpc. I was buying records from the Goodwill store, the Salvation Army, taking old records off people's hands, things like that. I made beat tapes for a few years and I was recording them into a Korg board with a CD burner, because I heard MF Doom used it. Being a graffiti writer, I was into what Doom was doing, and it was a cheap studio.
That continued on for a while, I was just making beat tapes for myself, ones I could listen to on the way to work. So for about 4 years that's literally all I did, go to work, come home, get high, make beats on the mpc, record them all, turn the machine off without saving, and just did that every day, no social life. I started getting into the strains of beats that were branching off into other kinds of music, into the electonic and dance realm, Dabrye, broken beat stuff, the weirder Dilla beats. Around that time I found some of the darker music I would get into. Shackleton, Muslimgauze, Coil, Burial. I guess I was always into the rhythms, but the textures just as much. All of those guys have amazing texture, and stories embedded in their music. And that's how I found myself making what I do now, I've never used a catchphrase or genre name to describe what I do, genre names are kind of embarrasing to me, and constraining. I just think of it like a beat with sounds around it, it may sound like grime sometimes, it may be 160 bpm other times, but it will always have textures and a dark narrative to it.
When did you first pick up production and what impelled you to do so? Was there any particular catalyst?
Like I was saying before, I was heavy into beat tapes, I was downloading all the Dilla tapes when they were first appearing on the okayplayer forum, before Donuts… finding the rare Pete Rock instrumentals, the first Flying Lotus beat tapes that were really basic sounding beats compared to what he does now, Madlib, Kev Brown, the Ummah. I started getting into the samples that guys were using, learning the drum breaks, after a while I was like why don't I just give this a try. I think I always wrote music in my head though, I remember walking home from school and just writing beats in my head and rapping to them, and this was long before I was making tracks.
Your track 'Satellite' has been receiving a lot of attention recently, exploring a sparse dystopian vision of grime. How big an influence has grime and those sounds been on you?
First off I have to say 'Satellite' is coming out on the Keysound compilation 'This Is How We Roll', couldn't be happier to announce that.
Now, I got into grime way past it's prime, I do remember when Dizzee first came out but I couldn't catch the groove, it was almost a 180 from what I was into at the time, I just remember it being frenetic, raw, I recognized that it still had the street influence to it, Kano when he was getting big, but I just wasn't into the groove.
About 3 or 4 years ago when I started to get into Djing more seriously I realized how Wiley had so much amazing music, the wordplay took the elements I loved from rap, just the rawness, the roughness, but over a different type of beat than I was used to. Icy, steely. It took me time listening but after a while it fully unfolded for me. I think I came into my element exploring these sounds because I have lots of room to try new ideas in the spaces of the rhythm.
You can write things as dense or as sparse as you like, so there's lots of room for experimentation.
Obviously grime is a pretty insular and London-centric sound. How were you first exposed to it? Was/Is there much going on in the way of grime where you are from?
Well like I said, I remember the first wave of it catching my attention, but I wasn't really into it at the time. Around 2009-2010 I was listening to Skull Disco records all the time, and was getting into the darker sounds of dubstep, garage, and started catching vocals that I was hearing, Wiley, Flow Dan, Trim. I was just looking for dark sounds, was listening to Zomby, old Wiley, Blackdown and Dusk on Rinse, started doing my research. It took me a long time to be able to properly make the sounds though, I was just fucking around for a few years, making all kinds of stuff, learning to make my own drums and sounds. When I first heard devil mixes and really grasped what was going on, it was almost too much, I was like I have to know everything there is to know about this. It's like a dark art with no textbook, you know?
As far as grime going on where I am, there's no scene to speak of and I hope it stays that way. I think I'm an anomaly in that most people doing grime outside of the UK aren't very good, they don't get it. I wouldn't even call what I do straight ahead grime except for one or two tunes.
That is only one element of your sound though, and it is really interesting to witness the creative fazes that artists go through. Have you found yourself drawn to making music on any other particular vibe recently?
Yea it's funny you say that, recently I started taking the eski style and turning the beatless idea on it's head even more, writing synth pieces at 100 bpm, I have the 'Double Dragon' one which is 120 bpm and hard to define exactly what it is. I'm leaving more space in everything I do, pulling back some elements so the ones that are there, stand out more. Leaving gaps in the rhythms in different places, odd couplets, trying new things all around. I do that everytime I write music, I rarely reuse kit, creating new sounds is part of the fun for me. Even if it's the same kick, I'm putting new things on the signal chain to see what happens.
Across all of your music, do you think that there is anything inherent to everything you make? Any fundamental principles that tie it together?
I don't know for certain. I mentioned visuals before, things that sound like a movie…you mentioned the word dystopian. That's a running theme for sure. I don't know anything about music, but I'm naturally drawn to notes and chords full of dread. I often use drums that are rough, sometimes metallic, scraping sounds, war drums.
Sometimes I don't know where it's all coming from and I like that. I got rid of almost all my gear and so my process is very concentrated. I sample alot of my own material and make all my sounds, so I have a big library of them. As far as fundamental priniciples, I don't think about any of that, and I don't feel like I need to. All my music has an implied sense of dread and paranoia, by itself, I think that's in all my art. Sometimes I have no hope, sometimes I have alot, maybe you can hear that in the music I make.
Looking at your soundcloud and through your tumblr, there is a really strong visual theme, in particular the new aesthetic stuff. Is this an influence on your music? Does your music take influence from other artistic disciplines?
I get ideas from visual art. Maybe not so much directly, but I just like to absorb the lines, the contrasts, symmetry, things like that. I might see a painting at the museum, see the figures, how they unfold in the composition, and the next time I'm writing synths I can imagine the left and right sides, like two figures fluttering and reaching out. I used to want to be an artist, I won a few awards when I was younger, I went to a school for animation when I was young, but I grew to hate it. All of the rules, and the repetition was stifling. That and the art scene and the people are terrible, full of themselves, it's just not the scene for me. I'm a fan of net art, whatever you want to call it. tumblr. Just the idea of people posting whatever they want, untethered.
You have an EP forthcoming on the Glacial Sound label. What can people expect from that and when is it due to drop?
I have the 'Double Dragon' EP coming soon. I met Paul who runs the label Glacial Sound online, we seemed to be on the same page aesthetically and with the music, so it's been easy. I'm proud of the release because I feel like it's a concentrated statement, like you know how they cook down a sauce to get the most concentrated part of it, that's what this is. I could have done something really bait with the Glacial name implying so much, but that wasn't even an option, I preferred to make a few tunes that captured the idea how I see it. Also I wanted to keep them straight to the point, like carving out a raw idea and that's it, not adding a thousand more instruments to a tune, to me I want to do more with less.
Looking forward, what else have you got coming up over the next few months? Any new releases or projects in the pipeline that people should know about?
Well, the Keysound compilation with 'Satellite' comes out late March, and the 'Double Dragon' EP should be out around that time also. I'm doing an EP for Egyptian Avenue Records as well. 'Hydraulics', which they put out, really got my attention so joining forces with Epoch is a no brainer. Sick producer. So, my plates full for now, but I'm looking forward to taking my sound to a new plateau this year, and don't plan on slowing down.
Can you talk us through the mix that you have put together for us a bit…How and where was it recorded? Is it a fair representation of what people can expect to hear from you if they go to see you play in a club?
The mix was recorded on Serato with Technics. It's not a conceptual mix, I don't have the attention span for a long mix that's all one color. It's just some new music of mine and the circle of producers that I'm coming up with. Playing out, you never know what you'll get from me. I try to come with something fresh and unexpected each time.
LIMINAL SOUNDS VOL.25: RABIT
DOWNLOAD: HERE
Tracklist:
Visionist – Pain
Parker – Yellow Fever
Rabit – Pressurized
Wen – Late Night
Rabit – Soy Sauce
Wen – Road
Rabit – Melt
Myth – Seven
Sepia – No One Is Safe
Strict Face – Mylar Swamp