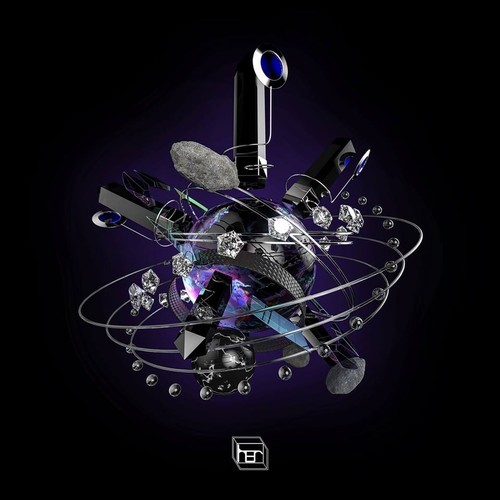 SUDANIM – THE LINK EP
(HER RECORDS – HER005)
1. The Link
2. Midrift
3. Lightmare
4. The Thirst
5. Midrift (Neana on the Trak Remix)
Release Date: Wed 12th February 2014
The Her Records crew have been quietly honing their fresh club amalgams since late 2012, building a solid foundation over the last year or so with a series of 'name your price' releases on their Bandcamp from co-owners Miss Modular and Sudanim, as well as a burgeoning crew of like-minded producers. However, it was the release of Miss Modular's 'Reflektor Pack / Cruzer Edge' EP at the tail-end of last year that put them on a lot of people's radars, singling them out as a bright prospect for 2014. Following that was always going to be tricky, but Sudanim more than meets expectations on the impressive 'The Link' EP, which is out now.
Across four original productions, Sudanim crafts a selection of tracks that are structurally diverse yet sonically coherent, exploring a diverse set of influences while always making sure his production style remains front and centre. On the titular track he harnesses the stripped back rhythmic ingenuity of early 00s hip hop in brilliant fashion, reappropriating its low end swagger for his own club framework as he swings playfully shifting grooves over a booming 808 bass. Up next, 'Midrift' is perhaps the most natural successor to Miss Modular's 'Reflektor Pack', layering a relentless procession of club-ready percussion into a frantic arrangement, which is playfully offset by the naggingly infectious vocal treatment.
'Lightmare' switches gears again while keeping things stripped back and rhythm-focused. Gleefully playing with tribal percussive timbres, the track comes off like Wiley's 'Crash Bandicoot' instrumental gone haywire, in the best possible way. On final original production 'The Thirst' Sudanim drops the tempo, releasing a frazzled blend of hip hop and dancehall that is packed with ingenuity. It is then left to new Night Slugs recruit Neana to complete the EP with his remix of 'Midrift'. Doing so in fine style, he picks apart the original and rebuilds it into a lithe, muscular club track in inimitable style.