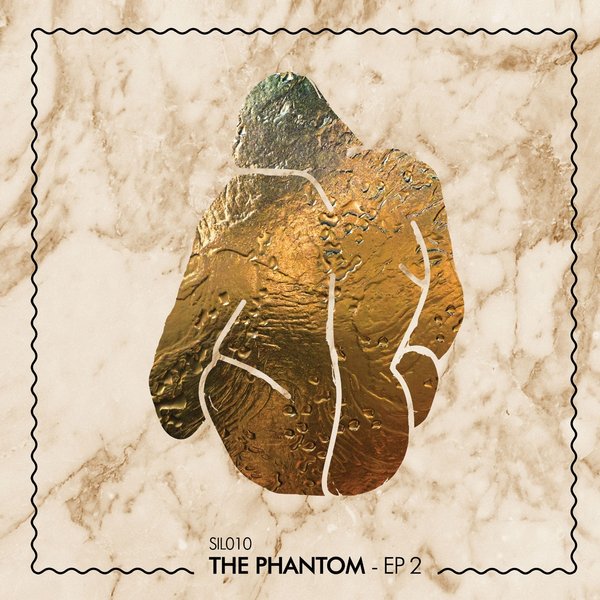 THE PHANTOM – EP2
(SILVERBACK RECORDINGS – SIL010)
1. The Phantom – Ceremony
2. The Phantom – Gothic
3. The Phantom – Voyeur
4. The Phantom – Colossus
Release Date: Mon 16th Jan
During their relatively short tenure as a label, the Belgium-based Silverback Recordings imprint has already put a lot of other digital labels to shame. Having released a series of well-crafted dance floor tracks from the likes of Grown Folk, Jack Dixon, Nguzunguzu and most recently Kastle, they have built a solid reputation as purveyors of consistently on-point bass-led club music. Now with a new EP from Polish producer The Phantom they dip their toe in  to the world of physical releases for the first time. Coming backed with a great full artwork sleeve, they haven't done things by halfs either.
I have had my eye on The Phantom for a little while now, having first been introduced to him through his mix for Sonic Router (#63). Part of a burgeoning Polish scene that is heralding some great music at the moment, his unique spin on the sounds of the underground has been turning lots of heads. His contribution to the Senseless Records  #1 project was particularly mesmerising. The cut glass synth strokes, icy vocals and expansive atmospheres of 'Arctic' came across like a dystopian vision of Eski productions – influences to which he gave a  knowing nod with the inclusion of the accompanying 'devil mix'. Now he turns to Silverback Recordings for the simply titled  'EP2', a great four-track EP that sees him covering a diverse array of terrain, all held together by its melodic warmth and innate rhythmic grooves.
Opening with 'Ceremony' the EP cuts across a lurching intro before unfurling some deliciously smooth 4×4 garage vibes; Warm piano keys and slick vocals float easily over a deftly deployed rhythmic swing while pitch-bent synths poke their head out through the track at intervals to hint at something darker underneath. 'Gothic' leads on from 'Ceremony', taking the bright colours with it while returning to the aforementioned Eski-influenced constructions. Built around a sparse drum line, a more downbeat affectation is drawn through the warped sino grime synths. On 'Voyeur' he diverts down a different path yet again, using a tumbling Funky shuffle as the vehicle for the rapidfire synth cycles to shock you into motion while 'Colossus' (which is available to download via XLR8R here) rounds off the EP ever so slightly nearer to where it started, injecting a low-slung boogie into the sun-kissed g-funk synths while still riding a wave of heaving low-end.
Such is the diversity of the four tracks on offer here that it makes for a slightly jarring home listen, but as a show reel it is an impressive articulation of The Phantom's prowess  and as a club 12″ it will no doubt find itself a place in just as a diverse a range of DJs' record bags.