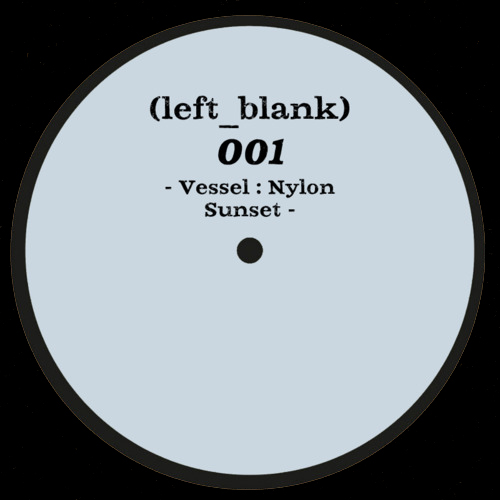 VESSEL – NYLON SUNSET EP
(LEFT_BLANK – LB001)
A1. Vessel – Ton
A2. Vessel – Blushes
B1. Vessel – Nylon Sunset (Peverelist Remix)
B2. Vessel – Nylon Sunset
Release Date: Mon 30th May
The inaugural release on Throwing Snow's new Left_Blank imprint comes courtesy of young Bristol talent Vessel who delivers a remarkably assured and well crafted debut offering. Crafting intricately constructed productions that skirt around the shadowy edges of the dance floor with a restless energy that is at once infectious and unnerving, this EP is a brilliantly difficult to pin down exploration of preternatural sonic soundscapes. In the way that the best music does, i have found it impossible to find satisfactory words to describe it.
The Vessel project is the work of Sebastian Gainsborough, who also collaborates with Kahn under the Baba Yaga alias and is part of the Young Echo collective alongside Kahn, El Kid and Zhou. Judging on the quality of these tracks and with forthcoming releases scheduled for Rekordah's Astro:Dynamics label (alongside El Kid), A Future Without and Immerse, you can expect to hear a lot more from him over the coming months.
The fidgety syncopated percussion on EP opener 'Ton' imbues it with a jittery groove that breathes life into the lethargic swell of the pads overhead. The sharply swung, clipped 2-step patterns skitter through the track on the verge of collapse, the separate percussive elements seemingly only held together by the static that permeates the production, while tightly chopped vocals cut through the whispers of voices from afar. 'Blushes' reigns in the percussion, opening up the track to its delicately placed nuances. The organic clatter of the drums shuffle through the dense atmospheres beautifully while the paranoid pads are offset against a smooth, rolling bassline giving the track an otherworldly displacement that is bizarrely soulful.
On the flip, title track 'Nylon Sunset' opens in a haze of tense atmospherics and reverberating kicks that force the track into motion before giving way to the surprisingly funky-infected hook that lifts away the weight. This pivotal motion which is bolstered by the kick pattern is offset against the somber atmospheres, dense textures and loose percussion to create a satisfyingly mesmeric groove.
Punch Drunk leader and bastion of the Bristol scene Peverelist rounds off the EP with a remix of 'Nylon Sunset'. Deconstructing it in inimitable style, he cuts open the original to leave only a rhythmic skeleton and the spectral presence of the original synths. Enveloped in swirling, ominous atmospheres, the high-pitched chords give the track a nervous energy as they tear through the layers of fidgety percussion.
Make sure you check out Vessel's recent mix for Sonic Router, and you can download EP track 'Ton' from XLR8R.
LB001: Vessel – Nylon Sunset (Preview) – Out Now by left_blank