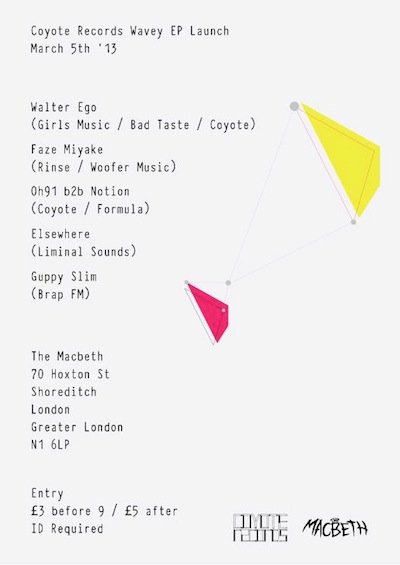 The Coyote Records label has quickly established itself as one of the most promising young labels stepping into 2013, operating at the crux of instrumental grime's most interesting new satellites. Following impressive singles from Mella Dee and TS7, their latest offering is the vinyl only 'Wavey' EP from Sheffield grime producer Walter Ego. In celebration of the new release they are throwing a launch party at The Macbeth in Hoxton on Tuesday 5th March.
Having released on UTTU, Senseless and Girls Music amongst others and worked with MCs such as Trim and Slick Don, Walter Ego brings two heavy-set grime instrumentals to Coyote for the 'Wavey' EP. On the lead track, spiralling melodies and icy chords give way to a sparse, incisive beat and splayed bassline that are full of impact, while on the flip 'Military Mind' is an equally powerful proposition pitting its swiping bass against a tangle of scattershot percussion.
For the launch party they are pulling together a strong lineup of Coyote's extended fam. Headliner Walter Ego will be joined by Family Tree affiliated producer Fazy Miyake, Formula Records crewmember Notion, future Coyote releasee OH91, Brap FM's DJ Guppy Slim and Liminal Sounds' own Elsewhere.
Stream previews of the 'Wavey' EP below and check out full event details underneath.
The Macbeth
70 Hoxton Street
London N1 6LP
£3 BEFORE 9 // £5 AFTER