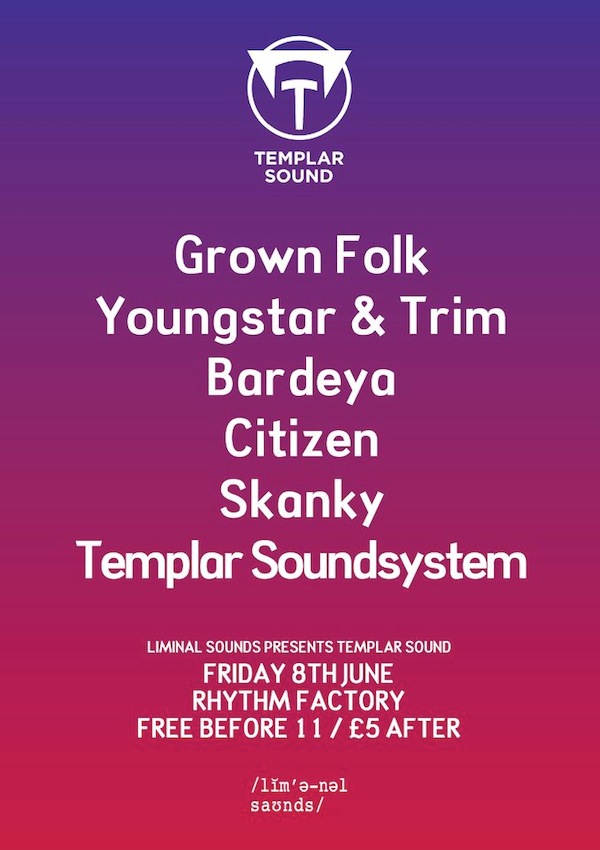 On Friday 8th June we are really hyped to be returning to Rhythm Factory sooner than expected with a one off special label showcase. We will be playing host to a diverse international lineup curated by Australian independent label Templar Sound.
Since launching in March 2011, Templar Sound has released music from artists based both in Sydney (The Bennisons, Dro Carey) and across the globe. From the otherworldly electronic alchemy of Dro Carey to the blend of smooth house and hazy rap that characterizes Montreal duo Grown Folk, the label has put out a series of stellar releases since its inception that have quickly made it clear that this is a label with a strong vision and impeccable roster. We are now proud to announce that a selection of these artists will be coming together for the first time on June 8th presented by Liminal Sounds.
Headlining the event will be the aforementioned Montreal duo Grown Folk who released their debut City Wind EP early in 2011 on the label. The pair will soon be following that up with their Cloud City EP, a collaboration with Oakland, California rap duo Main Attrakionz. Past Liminal Sounds guests and grime stalwarts Youngstar & Trim will also be on the bill, so anyone that has come down to one of our nights before will know that the combination of these two will be unmissable. Bardeya will be flying in from Berlin to get in on the action bringing his unique bass heavy and percussively intense style as well, while fellow London artists Citizen and Skanky will be completing this diverse lineup along with label head Aidan Bennison who will be performing as Templar Soundsystem.
Rhythm Factory
16-18 Whitechapel Road
London
E1 1EW
FREE B4 11pm // £5 after