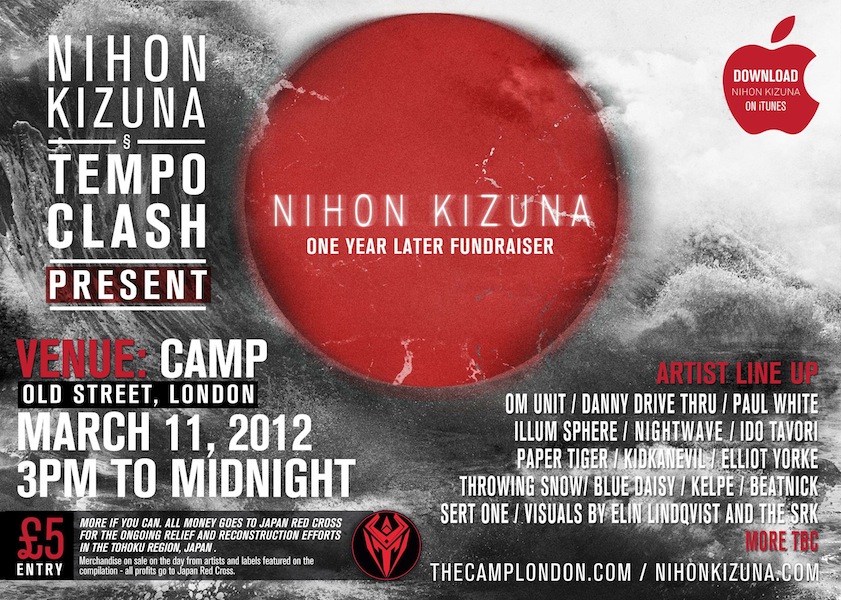 Nihon Kizuna is a compilation of music featuring over 50 international artists and labels that was put together to raise awareness of and money for the victims of the March 11, 2011 earthquake and tsunami that devastated the northern coast of Japan. For a mere £10/$10/E10 you can get 50 tracks including many exclusives and know that all proceeds from your purchase go to the Japanese Red Cross' fund for help in Northern Japan. To date the compilations (which is available here) has helped raised over £30,000 for the cause.
Now, two twin shows in London and Tokyo are bringing together many of the artists that contributed to the original Nihon Kizuna compilation last year to mark the tragedy's anniversary and continue to help contribute to this great cause. With help from Tempo Clash more than 14 artists will be descending upon CAMP (LDN) on the day to play music and there will be merchandise from many of the labels and artists available on sale (all profits from which go to charity) as well as a projection/visual story from Elin Lindqvist based on her forthcoming book 'Fukushima Colours – Eight voices about the catastrophe in Japan' which will be released on the day as well.
This is a really worthy cause (not to mention two great lineups) so if you are in either city I fully recommend heading down there and getting involved. If not, make sure you grab a copy of the compilation. See full details of the events below.
NK One Year Later LONDON:
LINEUP: Illum Sphere, Om Unit, Nightwave, Blue Daisy, Kelpe, Paul White, Paper Tiger, Kidkanevil, Danny Drive Thru, Ido Tavori, Elliot Yorke, Throwing Snow, Beatnick, Sert One + Laurent Fintoni and Joe TC
WHEN: 3pm till Midnight
WHERE: Camp, Old Street, London (upstairs)
HOW MUCH: £5 minimum on the door, more is appreciated. NO GUESTLISTS
FACEBOOK EVENT: Here
WEB PAGE: Here
USTREAM: London Ustream will be via here
NK One Year Later TOKYO:
The Tokyo event meanwhile will be held at Be-Wave in Shinjuku, where the original fundraiser was held in April 2011 to celebrate the success of the compilation. This event will run from 5 till 11pm and feature 8 of the Japanese and Japan-based artists involved in the original compilation as well as guest DJ Deville from Senseless Records. Visuals will be provided by Takanori Arai.
LINEUP: DJ Deville (Sensless Records), Himuro Yoshiteru, Yosi Horikawa, BD1982 (Diskotopia, Seclusiasis), A Taut Line (Diskotopia), Audace, Broken Haze (Raid System), XLII (Raid System), DJ Ken One (Raid System)
WHEN: 3.11(Sun) 17:00-23:00
WHERE: Be-Wave (Shinjuku, Tokyo)
HOW MUCH: Donations on door
VISUALS AND USTREAM: Takanori Arai
USTREAM: Tokyo Ustream will be via here