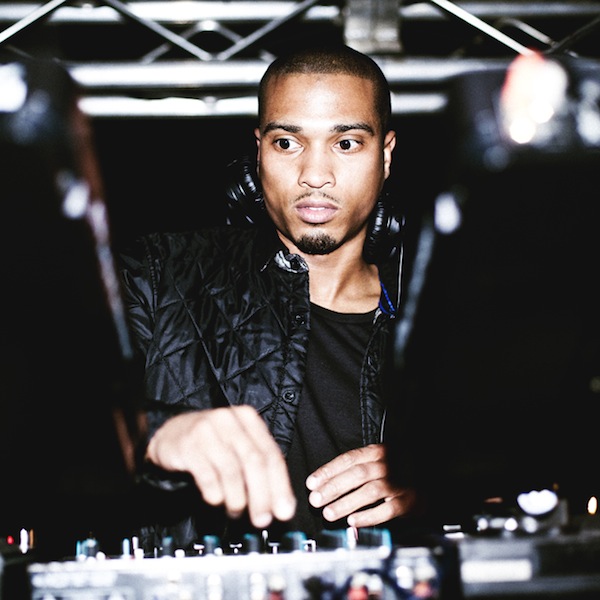 Grime has produced more than its fair share of iconic UK underground tracks, whether that be Dizzee Rascal's early instrumentals such as 'Ho' and 'Go', Jon E Cash's brutal brand of sublow in action on tracks like 'War' and 'Battle' or Wiley's innumerable experiments with the famed eski sound. However, in our humble opinion no one can lay claim to the same power and influence as Youngstar, arguably the most important producer in grime's rich history and one that has made an indelible mark on underground music in the UK over the last ten years.
As the man behind 'Pulse X' he is credited with creating what is often considered to be the first ever grime track, igniting a new wave of innovation out of the ashes of UKG. Its sparse 808 snares and visceral, distorted bass tones would go on to inform the direction of the embryonic genre and flow through the tracks of thousands of imitators in its wake. It is testament to the lasting impact of the track that it still regularly draws rewinds in clubs every weekend, finding its way into the bags of an incredibly diverse range of DJs. And that is only the tip of the iceberg…His extensive back catalogue boasts a number of other seminal tracks including 'Bongo', 'Revival' and 'Formula' to name just a few, tracks that still live on in the UK underground ten years on. Notably, the 'Revival 2' instrumental would also go on to become the beat for 'Stand Up Tall', the lead track from Dizzee Rascal's acclaimed second album 'Showtime'.
Still as prolific as ever, he is continuing to explore new ground with productions that range from grime to garage, dubstep to drum and bass. We are so happy to be having him down at Liminal Sounds alongside Slimzee this Friday, promising a bag of fresh and exclusive dubs as well as some old favourites. We managed to get a rare interview with him to talk about how he started producing, the legacy of 'Pulse X' and the future of grime…
He was also generous enough to give us the stems to 'Pulse X' and let some of the other producers on our lineup put their own unique spin on it. The result is LS004, a three track remix EP paying homage to one of the most important tracks of the last ten years and drawing connections between two generations of grime producers. You can check it out over on FACT Mag now. We hope you enjoy it as much as we do.
Hi mate. How is it going?
Good.
To go back to the start briefly, when did you first start producing and what inspired you to?
I started around 1998 when I was 15. Me and my older brother taught ourselves to mix on Soundlab turntables. I was inspired by Jungle records and House n Garage, I wanted to make tracks like that. I started off using a Yamaha keyboard.
You started out making garage and 4×4 stuff right?
Yes mostly 4×4, 2 step, 138bpm beats.
'Pulse X' is often referenced as the first ever grime tune and that sound has spawned loads of imitators. How did that track first come about and were you aware of the tune being special when you were making it?
I was using this programme called Rebirth and just making short drum sequences. When I made it I knew it was a special tune, it was saved in the pc for over a year before I showed anyone. The 8 bar arrangement was made later in the studio when we formed Musical Mob, it was cut on dubplate and played by Heartless Crew in Aiya Napa. As it became popular on tape packs back in London, UK we decided to get copies pressed on vinyl. The first white labels were selling for about £10, that's when we knew it was gonna be big. Then we got a distribution offer through Essential which went on to sell well over 6000 in the first few weeks.
How does it feel that people are still playing tracks like 'Pulse X', 'Bongo', 'Formula' and 'Revival' now nearly ten years later?
It is a good feeling for me that those tunes still get played and to see the response in clubs is great. 
There are a number of versions of each of those tracks that have been released. What is the idea behind flipping the tracks in all these ways?
At the time everyone was playing them and asking for specials and a lot of producers sampled the bass and made their own version, I had to make the same re mix as they became popular and in demand in the record shops.
Those tracks find their way into the record bags of a really broad selection of DJs too. What do you think it is that appeals to such a wide selection of people?
Tracks like Pulse X, Bongo, The Formula are fun for any DJ to mix and quite easy for beginners and because of the crowd reaction it gets when dropped in raves it is also a favourite for many grime rap mc's and professional and up n coming DJ's.
You have amassed a pretty extensive back catalogue since you first emerged on to the scene. Are you pretty prolific as a producer? Do you have any set ways of working in the studio?
I would say I am prolific. I got a large selection of tracks in the studio unreleased, when I go to the studio I make sure I make at least 1 good beat. My ways are strictly to always produce beats and experiment in finding the best sound.
You have also worked producing with some of grime's biggest MCs like Dizzee Rascal who you wrote the 'Stand Up Tall' instrumental for. How did that come about?
I was chilling in my room one day playing on grand theft auto ps1, I got a txt from A&R man DJ Semtex about production work for Dizzee, 20 min later Diz calls me up to come meet him. I had the Revival beat on a cd and about 20 other tracks, Dizzee and his manager Cage heard them they liked the first track which was the Revival Part 2 beat. Dizzee wrote and recorded same night and a couple days later it was finished and they decided to use it as the leading single to his second album.
You have made a lot of different music from garage and grime to drum and bass to dubstep. Do you think there is anything that ties it all together with your personal stamp?
The 8 bar formula is a stamp, I use that a lot in grime, so do other producers in different ways now as the sound has travelled worldwide. I use that 808 drum sound to produce most of my hits out there. I think that distorted bass-line in Pulse X is my most personal stamp, everybody knows it.
Grime and garage have been making a return recently and people have been revisiting some of those early productions. What do you think of the health of the grime scene at the moment?
The quality is there now to go commercial, that raw grime sound is still being made and the tracks sound good. As studio equipment changes new ideas always come from new producers but I think that 8 bar sound will always be the best type of grime made. As for Garage it is the dark side beats I like and the bumpy 4×4 tracks. I still think there needs to be more new production coming out or just a big tune every month from grime artists and producers..
Are there any producers or MCs that you particularly rate at the moment?
At the moment I listen to a lot of music oldskool and new, I always like to hear what up n coming producers have, a lot of them come to me for advice on producing and getting the right sound. It is hard to rate the tracks I hear every day as there are so many, when I hear new ones I really like I search for them on the internet.
I have seen that you have been releasing back catalogues of your material recently. What are you working on the moment? Do you have any new releases or projects in the pipeline for this year?
My aim is to release a track every month through my website. The new ones you will find on Juno Download. I got some hits there waiting for mc's and vocalist to jump on.
What can people expect from your set at Liminal Sounds?
I got exclusive instrumentals, lots of heavy grimy bass tunes, some oldskool garage, and maybe some jungle drum n bass. There will be a good vibe.
-Catch Youngstar playing at LS04 @ Rhythm Factory on Fri 20th April alongside Slimzee, Slackk, Pedro 123, MIK + more