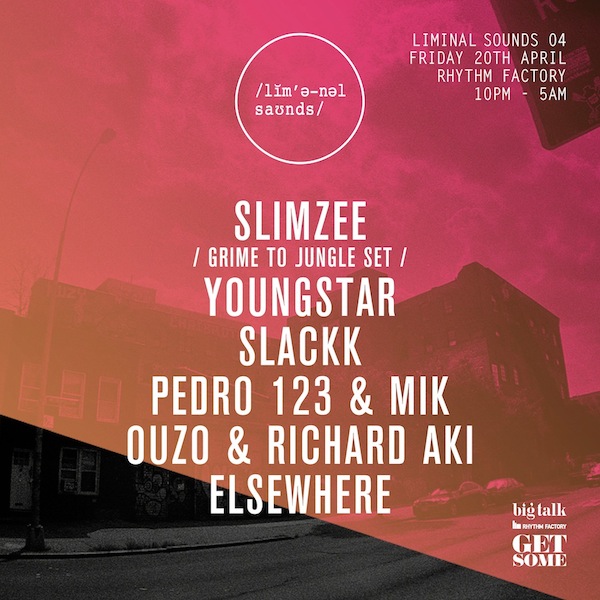 Our musical tastes fluctuate on pretty much a daily basis. Whether this is down to a natural evolution in taste or our impressionable adherence to the current zeitgeist, we are not the ones to say. However, what we can say is that through all of this our love for Jungle and Grime have always remained. This is what we are honouring with our next event…
Still bouncing off the walls from our last event in Jan, we are back for our fourth installment at Rhythm Factory on Fri 20th April. Bringing together two of our musical heroes alongside some of our favourite artists at the moment, we are so hyped to be able to announce this.
*See the facebook event here / Sign up for limited free guestlist here*
Slimzee is a man that needs no introduction. Having played a part in the evolution of the UK underground from jungle through garage and on to grime, he is one of the best and most influential DJs of the last decade. From his early days in Pay As U Go to his famed appearances on Rinse to possession of the most sought after selection of dubplates in the game, there is no denying his credentials. If you want any further proof check some of his infamous sidewinder sets – that should be all the convincing you need. One of the fastest and slickest mixers in the game, his sets are never to be missed. We are really excited to have Slimzee playing a special grime to jungle set for us.
http://www.myspace.com/djslimzeee
On the other hand, Youngstar is perhaps the most important producer in grime's rich history. As the man behind 'Pulse X', a track widely considered to be the first grime tune ever made, and a slew of other seminal tracks like 'Bongo', 'Revival' and 'Formula' to name a few, he has made an indelible mark on underground music in the UK over the last ten years. Such is the power and impact of his music that these tracks still regularly draw rewinds in clubs every weekend. Still killing it with productions that range from grime to garage, dubstep to drum and bass, we couldn't be more excited to be having him down.
http://www.ddjsproductions.co.uk/
Slackk first came on to our radar a while back with a stone cold re-imagining of a classic Wiley instrumental. While his music isn't always so overtly grime influenced, this is symptomatic of how his music presents itself to us, channeling that sonic impact into something altogether new while skittering around in style from rugged house rhythms to squirming, overloaded acid tracks. Releases on Numbers, Disktopia and Unknown to the Unknown have delved into these different facets adroitly and continue to wow us each time.
When you hear one of Pedro 123's tracks you will know it. With a sound that references classic grime productions and new school bass music in equal parts, his sparse tracks are built for those stop-you-in-your-tracks moments in the dance. Often jarring and never predictable, his leftfield vision of grime is starting to gain a lot of support, and deservedly so. With an EP set for release on B.Yrslf Division later this year, it sounds like this is just the start for the young producer and we are hyped to be having him down.
http://soundcloud.com/iampedro123
Having had him down for our second event, we couldn't resist asking MIK back for more. In charge of one of the sharpest flows in grime, MIK has the ability to take any beat he works with and make it 100% his own. 2011 saw him work with the likes of Kahn, Faze Miyake, Spooky and this year promises a whole lot more. With a slew of new material being readied for release imminently, he is definitely one to watch.
http://soundcloud.com/mikmusicuk
We are really happy to be welcoming OUZO and Richard Aki from our GET SOME family down to complete the lineup. Their impeccable selections and seamless mixing are on-point every time.
http://soundcloud.com/richardaki
Resident Elsewhere will be warming up the system on the night.