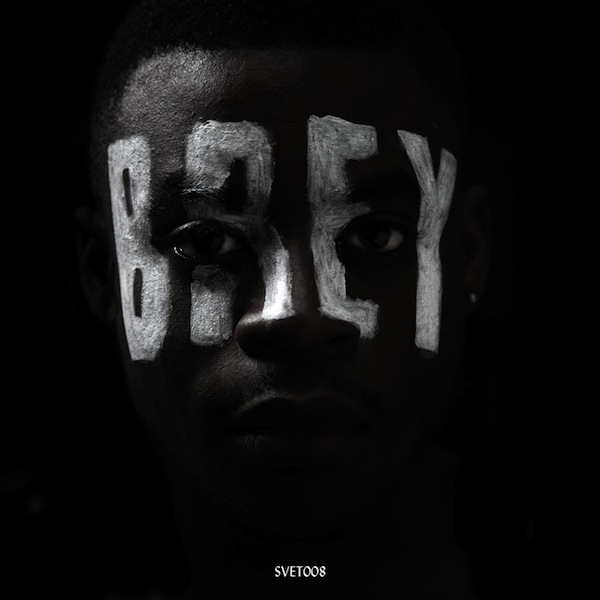 BREY – BRASIL EP
(SVETLANA INDUSTRIES – SVET008)
1. Bengela
2. Juno
3. Double A Side + A Side Order of Tilapia with a White Wine and Lemon Sauce
4. Monies ft. Vinny Radio
Release Date: Mon 19th March
I have been a huge fan of young London-based producer Brey ever since I first came across his soundcloud on the recommendation of BD1982. In fact we were so enamoured that we had him down to play at our first event back in June of last year and have been making sure to keep a beady eye on his goings on ever since. So individualistic are the results of his time spent in the studio, that his music immediately dissipates any concepts of scene or genre. His brilliantly idiosyncratic take on rhythms, bold arrangements and unique grasp of melody all contribute to making him one of the most exciting producers around. Having had to make do with just a handful of new tracks, edits and remixes over the last year – including the inclusion of 'Face (Junk)' under his Die Barbie Musik Kollektiv moniker on Pearson Sound's fabriclive mix as well as a twisted remix for Javeon McCarthy on PMR (see here) – he is now finally set to drop his debut EP on the ever on-point Svetlana Industries label.
The result of this wait is the four-track 'Brasil' EP, an inimitable collection of tracks imbued with Brey's unique musical makeup and which sounds like pretty much nothing else you will hear this year. Moving across tempos, moods and styles with scant regard for anything other than the innate vibes, it is no wonder that Brey has been the subject of such widespread hype recently, picking up support from the likes of Scratcha, Bok Bok and Brackles along the way. Taking programmed beats and dance floor constructions as its basis, it weaves in a boisterous mix of live instrumentation and tribal percussion.
Opener 'Bengela' is as infectious as they come with Brey jumping straight into carnival boogie mode. Built around shuffling tribal rhythms, the bombastic horns stride onto centre stage with enough drama and charisma to blow any track it is put next to out of the water. Up next, 'Juno' channels the essence of 'Bengela' into something altogether weirder; Takings its propulsion from the interplay of the rough drum timbres and their  natural melodic inflections, the track is layered with fragments of slippery orchestration  which mould themselves effortlessly around this core while a winding guitar solo in the second half takes it into psychadelic freakout territory (This is a good thing in case you were wondering).
'Double…' is the highlight of the EP for me, burrowing down yet further into the outer reaches of Brey's musicality. Focused around a downpour of jutting, hyperactive rave chords, the track's relentless percussion and warped atmospheric touches deliver something totally unexpected, a wholly unique club banger. 'Monies' then rounds off the EP on a pretty different note with the most transferable of all the tracks here, a bumping hip hop collaboration with Vinny Radio from the Pittsburgh collective The 58's. More simple in its arrangement, the swirling strings samples and tumbling rhythms create a rich tapestry through which Vinny Radio weaves his flow nicely.
This is a seriously class and impressively accomplished debut EP from a producer revelling in doing his own thing entirely. Make sure you keep your eyes and ears on him…
Brey has also dropped the suitably left-of-centre video for lead track 'Bengela'. Check it out below: