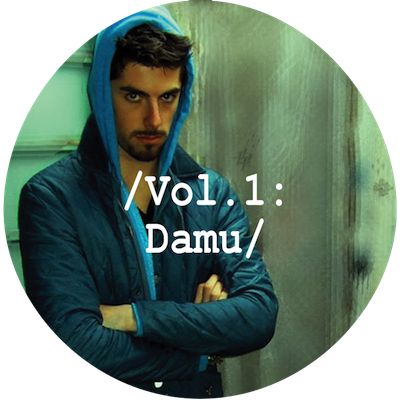 Without further ado, I am happy to get the Liminal Sounds mix series – and the blog – off to an exciting start, with a scintillating mix from young Manchester-based producer Damu.
Damu has been in my peripheral vision for a while now, immediately catching my ear with his bold synthetic melodies and propulsive rhythms. Having kept track of his prolific work rate I have heard him hone his sound in real-time, focusing his influences into a recognisable yet progressive sound.
Building upon the rhythmic amalgamation of house and 2-step, he layers frenetic arpeggios and swathes of vibrant synths, building energy to the brink of collapse. Offsetting the tough rhythms and frenzied melodies with delicate pads and disembodied vocals his tracks manage to reach beyond the dancefloor, drawing you into a swirling reconstructed vortex of his influences.
Already starting to garner increasing amount of attention, with the likes of Dusk and Blackdown and Girl Unit drawing for his tunes and with some exciting releases slated for the Autumn, it felt like the perfect time to get the inside track.
His skills are not limited to production either, as is demonstrated by the stunning mix he has been kind enough to put together. Thoughtfully blending together class productions from the likes of James Blake, Ill Blu and Falty DL, as well as a healthy dose of his own material, this is one not to be missed.
Can you please briefly introduce yourself?
I'm Sam, I'm 21 years young, I live in Manchester and I DJ/produce under the name Damu.
What do you do outside of music?
Apart from chilling out with my mates and going out, not too much else, dog walking and a bit of camping now and again.
Did you get into DJing or producing first?
Producing, but I used to do producing for bands I was in when I was about 17/18 and it kind of came from there. DJing seemed like a natural progression because its something I enjoy doing.
Would you say that one comes before the other for you?
I think it can go either way really, DJing is definitely something which got several of my mates interested in producing, but similarly, when you start out producing its not long before most people like the idea of DJing. For me, the idea of just getting more involved with the local scene and meeting lots of like-minded people has been something that's spurred me on, cos basically, I just love it. I think a lot of that comes down to being in Manchester though. It's really flourishing at the moment because a lot of people have put in a lot of hard work and I think it just becomes something that people really want to get more involved with, whether that comes through producing or DJing.
When did you pick up production and what impelled you to do so?
Other than doing a bit of shoddy Cubase stuff for bands I was in, I started producing electronic music around the start of 2009, but it's been an intense learning curve since then. I've really only been coming out with stuff I'm happy with for maybe a bit under 6 months. That seems to be the case with a lot of people I talk to though. I can think of a couple of producers who are releasing very big stuff at the moment who started producing after I did.
Has production been a personal learning curve for you or is it something that you have studied?
I kind of wish I'd studied music production at uni, but it's been mostly a personal thing. As I say though, Manchester is a great place to be at the moment because everyone just helps each other out and I've had a lot of very useful lessons from people I know.
When did you start becoming interested in electronic music and from what angle did you come at it?
I pretty much came at it as an outsider via clubbing around 2007 really. I went to a couple of dubstep nights and had the whole coming of age thing and I can think of one night in particular when I got up the next day and basically said to my housemate "I need some of this dub-step, do you have any?" I haven't really been able to get the music out of my head since then, in a good way obviously. Before that I was just into a lot of indie bands. I've really had to go back and learn a lot, because I know a lot of people have been into this for a lot longer than I have.
How has your musical taste progressed to the point that you are at now, both personally and in your own productions?
Getting new music became a bit of an addiction until it got to the point when it was something I would do for a few hours every day, listening to stuff and finding it and reading up on other stuff and all that. That seems to have just become the norm now and I hear about a lot of stuff from my mates now. Unless there's a lot of soul in music I tend to get bored of a style very quickly so I guess that's where I am now. I really enjoy hearing new sounds I've not heard before, but I think it's the stuff that is infused with feeling and meaning that really stands the test of time for me. I'm exactly the same with visual art.
You utilise intricate melodic structures and dense layering. Do you have any musical theory or play any instruments?
I've played classical piano since I was 6 although I must admit I'm only just getting back into it again now after a lengthy hiatus. I love composers like Scriabin, Debussy, Chopin, even Mozart. The idea of creating such enchanting melodies is something that really appeals to me and that's something I'm looking to get a lot more into in the future. It can be done, it's just a matter of hearing the music rather than just clicking it into an interface. I'm looking forward to having a piano in my producing space again. I've always played quite a few instruments and I find that drums is one that really helps me out and I love complicated drum arrangements. I've been really getting into doing UK garage drums recently.
You have a very prolific work rate; is making music something that comes easily to you or have you had to work at it?
Bit of both really, sometimes I can sit for hours staring at a loop going very slowly, sometimes I can do a whole tune in a few hours, they tend to be my favourites as well. You definitely have to work at it though, I guess the main reason I can do tunes so quickly when I'm on form is cos I've spent a lot of time doing it, so stuff that would have taken me a while before comes quite easily now.
How much of your time do you devote to making music?
I try not to let it take over my life when I've got other stuff on, although it quite often does. At the moment its somewhere in the region of all day and night, every day and night. It's a bit sad really.
You make music across quite a broad spectrum; would you say that there is anything inherent to everything that you make?
I guess because I know what my influences are I can hear that my songs all have those in common. I like my productions to be very colourful and I like to use a lot of melody and arpeggios, there's also a few little sounds and samples I use quite a bit to make the tunes sound a little distinctive. I like a bit of deep house and dub techno, but on the whole, I guess I want my tunes to be fairly bold and brash in terms of the sounds I use.
Which artists and movements are exciting you at the moment?
Well I'm really enjoying this whole experimental side of UK funky at the moment. Grime is getting really good again, I'm really enjoying the Chicago juke scene at the moment. I'm very interested to see that becoming more of an influence in the UK. Night Slugs, Brainfeeder, Hotflush and Blunted Robots seem to be pretty much flawless labels at the moment. In terms of artists, James Blake and his Harmonimix stuff is just incredible, Brey and Young Montana are two artists you definitely need to look out for, I'm interested in this new Braiden stuff on Doldrums, that should be really good.
Have you got any releases or projects in the pipeline?
I've got an EP coming out on Silverback Recordings in the Autumn which I'm very excited about. I'm doing some nice remix projects which hopefully you'll be hearing about soon and I'm lining up another release for the start of the new year on Local Action. I'm just stupidly excited about all that stuff really.
You have been kind enough to put together a mix for the blog. Can you explain a little bit about it? What tunes you had to include and what you wanted to showcase with it?
I've started it out with some stuff I am absolutely loving at the moment. I can't get those 3 tunes out of my head, on a little journey through some of the Funky that's really doing it for me, along with a bit of my own stuff and a new tune called Ridin' that I haven't posted anywhere yet. The last few tunes are a bit of juke that I really like. Definitely something I'm gonna start playing more of when I play out.
LIMINAL SOUNDS VOL.01: DAMU
DOWNLOAD: HERE
Hudson Mohawke, Robin Hannibal & Myele Manzanza – Ain't Nobody Like You
James Blake – Limit To Your Love
C.R.S.T – The Bells (Girl Unit Remix)
Kingdom – Pang
Damu – Ridin'
Damu – I Can't Stop Loving You
Roof Light – All Day Breakfast
Crystal Fighters – In The Summer (Shortstuff Remix)
Ill Blu – Dragon Pop
Jackal Youth – Broken
Jam City – Ecstasy Refixxx
Sam Tiba – Barbie Weed
Hackman – Dusk
Appleblim & Al Tourettes – Lipsmacker (Deadboy Remix)
Falty DL – My Friends Will Always Say
Damu – Sequinny
Machinedrum – Lemme F_ck It
DJ Spinn – If U Ain't Jukin'
DJ TY – Beat That Shit Up
DJ Nate – Hatas Our Motivation
DJ TY – Run This Muthafucka
Erykah Badu – Bag Lady (Girl Unit Remix)