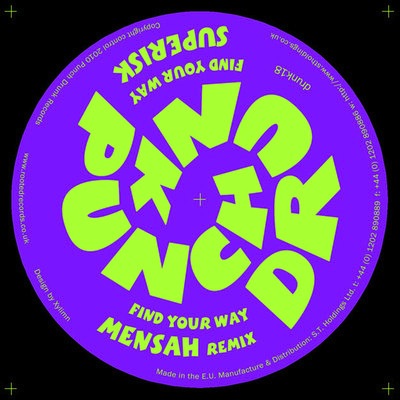 SUPERISK – FIND YOUR WAY
(PUNCH DRUNK – DRUNK18)
A. Superisk – Find Your Way
B. Superisk – Find Your Way (Mensah Remix)
Release Date: Mon 6th Sept
There are few labels that command the kind of respect that Peverelist's Punch Drunk imprint does. Since it's inception in 2006 it has been responsible for pushing some of the most exciting and genuinely innovative music around the environs of what people call dubstep. From Peverelist's masterful rhythmic trickery through RSD's junglist reincarnations to Guido's synthetic grime symphonies, the label has continued to releases a steady stream of highly individual and idiosyncratic bass music.
So it is with complete trust that you can make the assumption that anything they release is well worth your time and money. Superisk's forthcoming debut is no exception. A long time staple of the Bristol music scene known for his high-octane DJ sets and production for the Central Spillz collective, his first outing on wax comes in the form of 'Find Your Way'.
Re-constructing the trademark tropes of classic grime instrumentals 'Find Your Way' is a writhing, twitching leviathan. Propelled by the clockwork pulse of the drop bass, the sparse wiry percussion ricochets off it sending out tense ripples. Pinned down by the single steady note of the bass, Superisk allows the synths to pull together a slippery rhythmic groove, sliding between the cracks in the percussion. The mangled grime strings contort themselves around the foundation of the track like a snake being charmed as the plucked oriental melody adds an underlying sense of melancholy.
On the flip comes a remix from another Bristol stalwart whose stock is on the rise having picked up recent releases on H.E.N.C.H. and Lo Dubs amongst others. Mensah takes the emphasis away from the bass, drawing the focus towards the rhythmic propulsion. Pulling the bass back to occupy more of a physical presence, the track is driven by the drum line which gallops along on the snap of the snares. He deconstructs the melodies, wrapping themselves around the percussive core, maintaining the track's inexorable forward momentum.
Superisk 'Find Your Way' by Punch Drunk Records
Superisk 'Find Your Way' (Mensah remix) by Punch Drunk Records
Next up for Punch Drunk is a collaboration between Peverelist and Hyetal, so watch out for that too!