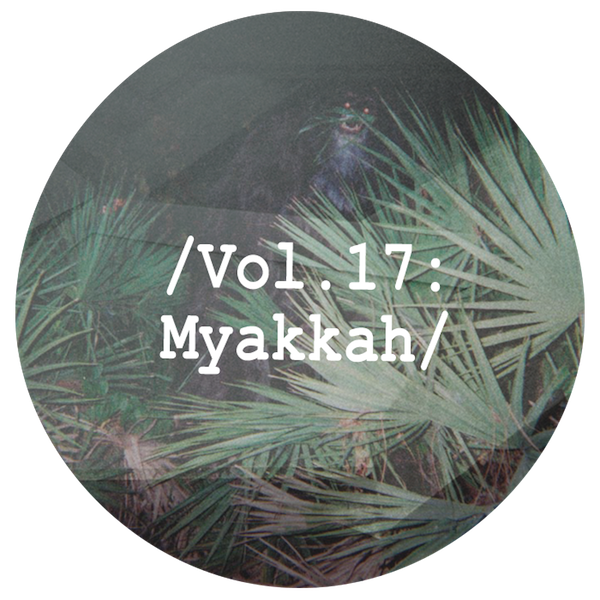 In less than eighteen months the Tokyo based Diskotopia label has firmly set out its stall as one of the most forward-thinking, varied and consistently exciting stables going. With 10 releases to date, including a stellar compilation released earlier this year, they have drawn an unpredictable path from the sun-saturated synths of Green Linez to the scattershot rhythms of Visionist and back again without losing sight of quality or direction. The latest edition to their burgeoning discography comes in the shape of the  stunning four track 'Warehouse Soul' EP from unknown entity Myakkah which came out last month. And it is to him that I turned for the latest chapter in our humble mix series.
Myakkah's debut EP came with little backstory or context, choosing instead to weave its own out of the dense sonic tapestry captured in his tracks, referencing a musical past and present that in turn creates a unique vision of where he is going. Here the absence of any tangible figure behind the music works perfectly, focusing the listener on the hazy blend of disjointed, hallucinogenic qualities and evoking the fading memory of a rave gone by narrated by momentary meetings and half heard tracks. Stumbling blurred and bleary eyed through the dance floor, they are skewed through a psychedelic lens that grants them an otherworldly lightness of touch.
The seen is set as opener 'Eyes Up' emerges from the dust on a wave of languorous atmospheres and broken percussion, rooting itself into a deep, spacious groove that pivots around the driving kick drum. As disembodied vocals and rumbling subs encase the track, it worms its way deep into your subconscious. This is reprised with 'Eyes Down', which travels down a darker path led by its booming industrial percussion and ominous synths. The frayed acid-flecked lead line bubbles through the track caught up in a web of eski style percussion and disquieting vocals.
Myakkah diverts skyward with 'I Want To Feel', a hypnotic vortex of scattered drums, eerie pads and vocal calls of 'wanting to be in hyperspace'. Shifting layers of precision cut percussion ricochet through the sinewy synth strands with the unstable rumble of a crumbling warehouse as the listener is carried along in an anti-gravitational bubble. 'Modern Life' completes the EP inserting a bit of trap swagger into the syrupy synths and yearning vocals, retaining the same hazy, half-consciousness with which the EP began while providing a suitably poignant close as 'Warehouse Soul' dissipates into the night.
For the seventeenth installment of our mix series, Myakkah has put together a sonic mission statement adeptly exploring exactly the past, present and future of his music. Featuring tracks from Moodymann, Marcus Mixx and Nochexxx as well as a selection of his own productions, it puts his left leaning productions into perfect perspective. No words necessary.
LIMINAL SOUNDS VOL.17: MYAKKAH
DOWNLOAD: HERE
Greeen Linez – 'Lift Off'
Marvin Dash – 'Untitled 2'
DJ Cam – 'DJ Cam Sound System'
Myakkah – 'Eyes Up'
Nochexxx – 'Ritalin Love'
Moodymann – 'Basement Party'
Marcus Mixx – 'The Spell (Ron Hardy Mix)'
Myakkah – 'Eyes Down'
Nicholas – 'All Night Long (Gerd's Old School Remix)'
Clapz II Dogz – 'The Rain'
A Taut Line – 'Sands (Myakkah Remix)'
Hunee – 'Sand Days'