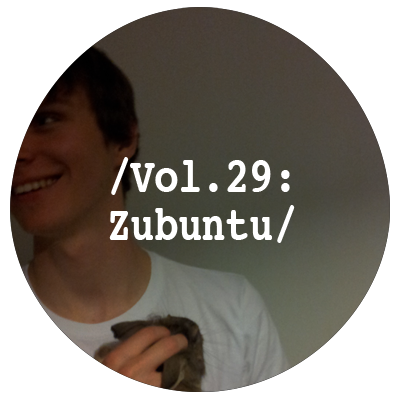 Following neatly from Tuff Wax affiliated mix series alumni Bones & Money (Vol.26) and Strict Face (Vol.27), next up for our mix series is 18 year-old Aberdeen-based producer Zubuntu.
Introducing himself with a promising free EP on Tuff Wax last year, he has just dropped a new EP on the Japanese Sabacan label with frequent collaborator T_A_M. Building upon the influences that can be heard running through the aforementioned EP and the selection of tracks on offer on his soundcloud, the two tracks that make up the new release blend the frenetic sampling of footwork with the rhythmic urgency and precision of jungle, with a healthy nod to 90s rave culture, and keeping their eyes set firmly on the dance floor throughout. 'Chim Richalds' is a rude assault of cut up breaks, choice vocal samples and squirming acid synths while 'Power Cologne' ties its breaks to skeletal drum patterns and deep 808 bass hits, injecting some low-slung swagger to proceedings. Both are more than worthy of both your attention and your hard earned cash.
With the EP out now, we caught up with him for a chat and handed over the reins for Vol.29 of our mix series. Bringing together hip hop, footwork, ghetto house, grime and more, it is a fast-paced ride through the sounds that make up Zubuntu and one which will undoubtedly encourage you to check out more.
First up, for those who may not already be aware can you please briefly introduce yourself…
My name is Jamie Ferguson, I am 19 years old, from Aberdeen, Scotland and I produce, DJ and play live.
When did you first get into production and what impelled you to do so?
I started out playing in a couple of bands and I decided to go to a DJ class ran by Big Dada affiliate A La Fu. From there I started getting more interested in how the songs I was mixing were made. From there I saved up for a Roland 404 sampler and started making beats and have since.
To provide a wider context to your music, how has your production style and musical taste developed to the point it is at now?
My friends that I have made just from the scene in Aberdeen have had a huge influence on my taste and production style, a lot of them have such a vast record collection and I've had the chance to listen to so much I probably wouldn't have otherwise. There is quite a tight-knit community of Djs and producers who all share their knowledge with each other and would come together every month for the Acid Thunder club night, which unfortunately ended earlier this year. For me that was where I got to hear a lot of what influences me now.
There is a real focus on interesting rhythms in your tracks, referencing footwork, jungle and hip hop. Where does this stem from do you think? And is it something that you look for in music as a listener?
It's not really something that I particularly look for, it's just something I am interested in right now. I love Djing juke and footwork stuff in clubs  it's music that I want to dance to, I guess that's how it ends up being reflected in my music. The club where Acid Thunder used to be based called Origin, has quite a big emphasis on Jungle, so I think my use of amen breaks comes from there. A lot of the stuff I make, especially in my live sets, tends to be a bit more sporadic, with more of an emphasis on melody and unusual beats, but its about what's being portrayed in the particular song at that particular time.
Across all of your music, do you think that there is anything inherent to everything you make? Any fundamental principles that tie it together?
The first thing I always think of about most of my music when I listen to it is that it seems to sound quite naïve and innocent. I think to some people that having quite a footwork and jungle influenced sound is a conscious effort to make throwback tracks, since that kind of sound has gotten quite popular. But in my mind I like all of the sounds that I do, because they are new and exciting to me, because I didn't experience those genre's when they first really developed.
You released a free EP with the Tuff Wax label, which is also home to previous mix series contributors Bones & Money and Strict Face. How did you first hook up with the label and how did that EP come about?
I first got involved with Tuff Wax by being good friends with and also working in the same place as Bones & Money and I remember always asking them for stems so they sent me some for the release at the time which was Yoin – "Martial Status", so I did a remix of that and I began following what was happening with Tuff Wax for about a year, still as I was learning the basics of Djing and production. From there I approached them with the two best tracks I had finished in the past year and asked if there was any chance of me working with Tuff Wax and were kind enough to release the EP in summer last year.
You work a lot in collaboration with T_A_M too. How did you guys start working together and has it been an organic process?
The collaboration came between us from us both being brought on the same night at Acid Thunder, from there we both became residents and I started listening to T_A_M's own music and I was struck by how melodic and different it was to a lot of the stuff I had been making. So I approached him with the idea of doing a couple of collaborations to see how it would work out and we have now ended up with a few Eps worth of music. For me the process is organic, it doesn't feel forced. The main reason I started making music on my own, was that I felt a band environment is too constricting to really create something good, but making music as a collaborative effort with T_A_M just feels right and I think the end products show that we have fun making the music we make.
Do you see a separation between what you make individually and in collaboration?
Certainly, I feel that T_A_M utilises space and noise very well and each song definitely creates a different tone. Whereas my own tracks tend to be a bit more beat oriented. However, when we collaborate, I think these differences work well and we have learned a lot of different techniques and ways of making music from each other.
You guys have an EP forthcoming on the Japanese Sabacan Records label. Can you tell us about that link up and the tracks that feature on the EP?
Purely through soundcloud, the label head Guchon, listend to one of the tracks we had made and approached us to release it.
Looking forward, what else have you got coming up over the next few months? Any new releases or projects in the pipeline that people should know about?
I am starting my own club night next month, so a lot of my time will be going into that, also I am continuing work on my own EP and try to find a label who would like to put it out and will be playing a few live and DJ dates in the next few months, hopefully some international. I also have a track coming out in the near future on a compilation from LQE Collective based in Shanghai.
Can you talk us through the mix that you have put together for us a bit…How and where was it recorded? Is it a fair representation of what people can expect to hear from you if they go to see you play in a club?
The mix was recorded live in one take on Ableton, in my bedroom/studio/practice area. I would say it has a wide range of what I would play in a club, I have tried to get as many of the different sounds I am into just now. It has some exclusives from friends, some new tracks of my own and some older tracks that I still love.
LIMINAL SOUNDS VOL.29: ZUBUNTU
DOWNLOAD: HERE