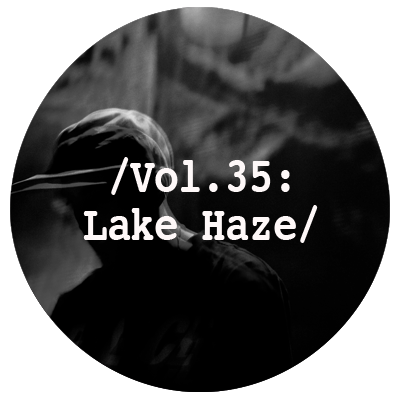 In the two and a half years since its inception DJ Haus' Unknown To The Unknown imprint has introduced listeners to a number of new production talents nestled amongst its burgeoning roster, and none are more impressive that Lisbon-based artist Lake Haze. Ahead of the release of his new 'Force Of Nature' EP on UTTU next month, we caught up with him for a chat and he has delivered the latest volume of our mix series.
Taking a direct approach to the dance floor, Lake Haze harnesses an explosive collision of the groove-driven energy of garage and bassline with the mechanic propulsion of techno, playing on shifting shades of light and dark to create his raw club tracks. Coming seemingly out of nowhere with debut EP 'Late Night Trip', he couldn't have announced his presence more forcefully. Pairing rugged rhythmic framework and muscular low end with buoyant grooves and glowing synths, the title track and accompanying 'Need For Speed' were quick to grab attention and remain on heavy rotation nearly twelve months. Following that with a more techno leaning EP on Photonz' One Eyed Jacks label and choice remixes of Bangkok Snobiety and UTTU's own Palace, he is now preparing to drop his his follow-up to 'Late Night Trip', 'Force Of Nature'.
Much like his productions, Lake Haze's mix for us is pure dance floor energy. Drawing from garage, bassline and grime, his choice selection takes in tracks from DJ Q, Lil Silva, Checan and more. The mix also gives you a taste of his forthcoming EP with the inclusion of new track 'Tsunami Riddim'. Check the interview and mix below and watch out for his EP when it drops in March.
First up, for those who may not already be aware can you please briefly introduce yourself…
I'm a 25 year-old producer from Lisbon, Portugal, heavily influenced by underground club music, primarily from the UK. And the name Lake Haze was taken from a Drexciya track.
When did you first get into production and was there any particular inspiration for doing so?
I was introduced to production when I was 16. A childhood friend of mine was taking his first steps into producing drum & bass, a rising scene here in Lisbon, but I had no patience at the time to learn how to produce, I was too busy growing up and feeling the music.
I only set down and learnt how to produce when I was about 22, because my girlfriend at the time left me for a DJ and wanted to show her what she was missing (laughs). Well, I know nothing about her now, but the only thing I can do is thank her. Think it was revenge that got me into production, never felt like the world was a worse place without my music.
Did you set out with a certain vision or focus in mind for the Lake Haze project?
No, not really, I just wanted to produce dance music to make people dance and have a good time.
I was first introduced to your music by 'Late Night Trip' from your EP for Unknown To The Unknown, which has remained on heavy rotation pretty much ever since. How did you first hook up with DJ Haus?
Well before that, I went to see DJ Haus play here in Lisbon at one of the nights hosted by One Eyed Jacks. I didn't even know Photonz at the time, I saw a tweet on his profile with the event and a link to 'DJ HAUS – NEEDIN U' videoclip and I loved it and wanted to go!
It was only a few months later, when I uploaded 'Late Night Trip' and 'Need For Speed' on my soundcloud page and sent it to Photonz, that's when I first got in contact with DJ Haus via email. Apparently Photonz sent it to DJ Haus and he really wanted to release them on UTTU. When Photonz told me this I though he was joking (laughs).
It seems like that track immediately got the attention of a lot of people. Were you happy with the reaction?
Yah, it was crazy, I wasn't expecting that at all! Although Unknown To The Unknown already had a passionate crew following and supporting all releases, I really felt the amazing vibe surrounding the label when an unknown guy like myself was releasing on the the same label as legends like Alias G and DJ Stingray and all I was getting was positive feedback without scepticism.
To my ears there is a pretty distinct difference in sound between the UTTU record and the 'Ruff Cuts' EP on One Eyed Jacks that followed it. Was that intentional?
Yes, 'Ruff Cuts EP' was a techno oriented release, following the path taken by Photonz for One Eyed Jacks on their previous releases, and I didn't want to run away from it. They were not supposed to come out but Photonz liked them so much that we decided to release them. It's a dark, soulless and merciless ep, crafted to be played on the rush hour of the dancefloor.
Can you talk us through your follow-up EP for UTTU, which drops at the end of March? Is it much of a departure from your first one?
It's a mix of UK Garage and 4×4 Bassline, a follow up of my previous ep 'Late Night Trip'.
Across all of your music, do you think that there is anything inherent to everything you make? Any fundamental principles that tie it together?
Well, I think my tracks are very pragmatic, in a way, that they are not the most technical ones around, but they have an amazing vibe, I call it 'old school pragmatism'. I love the skeletal shape of an old school track, simple in its elements where synths come in and out very fast and unexpectedly, the dynamic is amazing. I'm not a fan of huge transitions and long drops, I prefer them to be fast and ruthless.
What is the scene like in Lisbon? Do you have much of a music community around you?
At the moment I think Lisbon is the most exciting city to go out at night if you like african electronic music, like Kuduro/Batida/Tarrachinha. It's a very strong scene here and it's gathering a lot of followers and a lot of press attention lately, especially Principe Discos. I think that our history and culture has an ancient bond with Africa, which got stronger during the last 30 years with the arrival of Africa's descendants from Portugal's ex-colonies that settled in the suburbs of Lisbon, which created a bridge between Lisbon and Africa and where the movement started.
In terms of sounds influenced by UK music where I'm included, I think it's not so strong or reaches the same visibility as other styles but it's a cohesive community where everyone tries to help each other, and where some promoters like Warface or Madness make the effort of bringing a big name in the scene twice a month.
Looking forward, what have you got coming up over the next few months? Any more releases or projects in the pipeline?
Got some cool gigs coming up. No other releases in sight, I think I'll just be enjoying 'Force Of Nature' for a while, and continue making tunes.
Can you talk us through the mix that you have put together for us…How and where was it recorded? Is it a fair representation of what people can expect to hear from you if they go to see you play in a club?
I recorded it in a studio here in Lisbon's downtown. Yah definitely although there are some precious gems I save for my shows.
LIMINAL SOUNDS VOL.35: LAKE HAZE
DOWNLOAD: HERE
TRACKLIST:
TRC – You
Mnt – Oi Oi Get Loco
DJ Q – Ragga Tip
K1 – H1N1 (VIP)
Maniac – Predator Chords
DJ Q – Tropical Oh
Lil Silva – Seasons
R1 Ryders – Hydraulic
Checan – Billz Billz Billz
DJ Haus – Thug Houz Anthem
Lake Haze – Tsunami Riddim
Checan- Killer Bee
DJ Q – Will I Ever Be Free
Lil Silva – Against Yaself
Funkystepz – Caution
K1 – Always Ready
Blackwax – Grimace
Slackk – Blue Forest
Inkke – Blessed