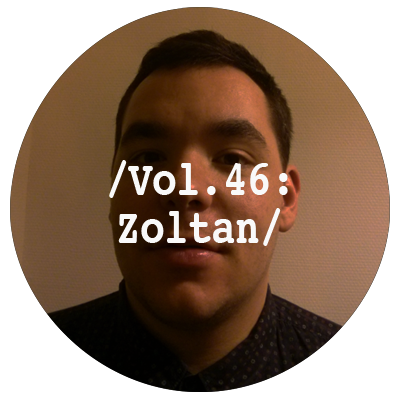 Romania-born, Amsterdam-based producer Zoltan's music has been a pretty much consistent presence in my DJ sets over the last couple of years. This is not anything to do with the volume of music he has put out, having only released a handful of records to date, but instead testament to the potency of the clutch of his addictive club hybrids that have found a home on labels like Freshmore, Granholme and Hum + Buzz over the last few years.
Skirting the peripheries of house, techno and grime, Zoltan's music cannot be defined by the tropes of any one genre. Pulling each of these sounds apart at the seams, his tracks are driven by a chaotic energy that manages to evade expectations at every turn. Packing a barrage of pummelling rhythms, gleaming synths and gritty textures in to hyperactive arrangements, it is this unpredictability that makes his music so enthralling, often threatening to unravel at any minute.
With new music on the horizon, I tapped up Zoltan for a quick chat to discuss his inspirations, how he approaches production and his plans for 2015. He has also delivered a killer mix for us that pits a handful of his own tracks against those of like-minded artists such as TSVI, Rushmore and Gage. Check the interview and his exclusive mix below.
First up, for those who may not already be aware can you please briefly introduce yourself…
My name is Zoltán Iszlay, I'm from Cluj-Napoca, Romania but I have been living in Amsterdam for the past 3 years. I just turned 25 and I make trax around 128 bpm. Besides music, I work a lot and I play a lot of basketball.
When did you first get into production and what inspired you to do so?
I've been producing music for about 6-7 years now I think. I wanted to get into production to see what I can come up with. I had a lot of ideas that I wanted to put in to practice so when I had free time (due to an injury), I sat down and started annoying the neighbours.
How do you think your production style and musical taste have developed to the point they are at now?
Using Ableton is a continuous learning process resulting in me learning new techniques and tweaks every time I'm producing. I would say that my production style has changed in a way that I am trying to be more efficient, in the sense that I don't waste time on things that I know will not work. Call it lean music production if you want hehe. My musical taste hasn't changed too much, still into funky, still into grime and the rest, but I don't really follow the scene anymore so that I can keep my sound unbiased. Lately, I have also been listening to a lot of soundtracks and also a lot of Caribbean music.
Did you set out with a certain vision or focus in mind for the Zoltan project?
Not really. I try to not set boundaries or limits, because these would hold me back from expressing my ideas. I just want to have a distinguished sound and music that can be associated with a club environment.
When you sit down to make music, do you have a clear idea of what you want to do with a track before you start?
I usually have a basic idea of what I want the tune to sound like. This can be a drum pattern, a melody or just a specific sound/sample. After this, I try to build up on this with other ideas.
How conscious are you of how a track will work in a club when you are making music?
Well, I would say I am pretty conscious, but everything is subjective. It has happened before that I thought that something works in a club, but it didn't.
Do you make any other completely different music that people perhaps don't get to hear?
Yes, once I made a rave (think 90s) mixtape with tunes that I made in a night, under the alias >>nab>. Here's the link: http://www.mixcloud.com/nab/the-nab-show
Across all of your music, do you think that there is anything inherent to everything you make? Any fundamental principles that tie it together?
I think my music has a sound that each tune carries. This is not always intentional but I don't mind it, because I think it's important to have my own sound. Besides this each tune has a bit of funky and some grime in them, at least that's what I'd like to think.
Looking forward, what have you got coming up over the next few months? Any releases you would like to talk about?
In April there's a compilation CD coming out on FullFridge (http://www.fullfridgemusic.com/), one of my tunes will be on there. For some time now I have been working with a label on a release. I can't say too much about it, but it will be announced as soon as there a solid idea behind it.
Can you talk us through the mix that you have put together for us a bit…How and where was it recorded? Is it a fair representation of what people can expect to hear from you if they go to see you play in a club?
This mix indeed represents what I would play in a club, it strictly contains tunes from people that I rate and some of my own productions. I recorded it home on my laptop, I hope people like it.
LIMINAL SOUNDS VOL.46: ZOLTAN
DOWNLOAD: HERE
TRACKLIST:
TSVI – I Married The Woman of My Dreams [B.YRSLF Division]
Phran – Hiatus
Deadboy – Copwar
Deadboy – It Did Not Feel Right (Zoltan edit)
Rushmore – Paladium [House Of Trax]
Gage ft. Kevin Jz Prodigy – Bad Bitch [Crazylegs]
Mudde – Emergency Skanker
Dryman & Denoir – The Present Moment
Zoltan – Mist
Lorenzo – Fantasies
Zoltan – Eclipse
French Fries x Divoli S'vere – Bug Noticed (Mudde edit)
Zoltan – Lunar
Zoltan – Take Flight
Zoltan – Zoom
Gage – End game
Luru & TSVI – Black dog
The Dream ft. T.I. – That's My Shit [Capitol Records]