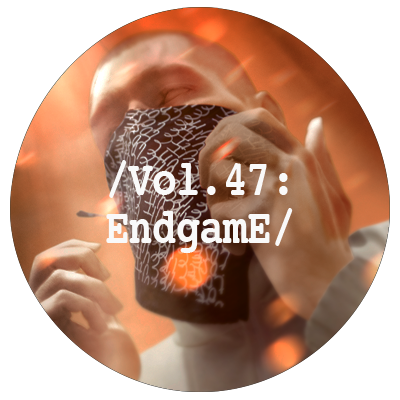 EndgamE is a name that should be familiar to anyone who has been locked in to London's underground scene of late. Along with a talented crew of friends and collaborators that includes Lexxi, Blaze Kidd and Uli-K amongst others, the DJ and producer has been involved in building one of the most exciting movements emanating the capital at the moment from the ground up. Through his far-reaching Precious Metals show on NTS Radio, sprawling DJ sets and on-point production work, EndgamE has been consistently pushing the envelope. With his debut EP out now on the Portuguese Golden Mist imprint, we are very excited to welcome him to our mix series.
While his productions have been bubbling for a while, appearing in the sets of tastemakers and popping up on mixtapes, the aforementioned self-titled record is the culmination of EndgamE's work to date. Drawing from a vast pool of influences, the six-track EP features a collection of rugged, groove-led club tracks that are equal parts dark and seductive. From the icy melodies of 'Luxury Riddim' to the metallic shuffle of 'Unlikd Riddim', the EP balances a steely stare with an emotive melodic touch. Elsewhere, EndgamE enlists Kamixlo, Uli-K and Blaze Kidd on the standout 'Sniper Redux', while Staycore label boss Dinamarca takes on 'Sniper Riddim', returning the favour after EndgamE contributed to the recent 'No Hay Break Remixes' EP.
EndgamE is one of our favourite DJs, and his hour long session for us doesn't disappoint in the slightest. Mixing up a selection of his own tracks with those of his extended crew and like-minded artists, the mixtape is a powerful blend of dark, rhythmic, oddball club tracks that draws you in from start to end.
First up, for those who may not already be aware can you please briefly introduce yourself…
Endgame, a producer and DJ from London.
How did you start out DJing and producing? Did one come before the other? And does that inform your approach, do you think?
I started producing using a cracked copy of Reason when I was about 14. Been DJing for around the same amount of time. They are both really cathartic for me, I would say DJing is good for understanding energy, and production is good for composition / melody.
What are some of the most important influences that feed into your music?
My main influences are my friends, WWE, DJ Wayne, manga, vines, E+E, Issey Miyake, industrial materials, and David Cronenberg.
Across all of your music, do you think that there is anything inherent to everything you make? Any fundamental principles that tie it together?
Emotion and energy are the most important things. Music should either make you wanna cry, turn up, or both!
You have been running the Precious Metals show on NTS for a while now. How did you first get involved with the station?
My friend Femi was setting up the station about 4 years ago, and I managed to convince him to let me have a show, he's been really supportive ever since.
Is the radio show an important outlet for you? How do your shows differ to when you're playing in a club?
Yeah man, it's crucial for me. It's a place where I can play whatever I want and support the people I really believe in. It's definitely different from a club set, more raw and open.
Your debut EP is out soon on Golden Mist. How did you link up with them?
I met them through my friend Palmistry. They are from Lisbon, and I've been really obsessed with the music from there, so it made sense to me to release with them.
What can people expect from the EP? Can you talk us through the tracks that are on it and how they came about?
It started with 'Sniper Riddim', trying to take the template of kizomba to a darker place, then the rest evolved from there. 'Unlikd Riddim' is one of my toughest riddims, which was used on the the Blaze Kidd mixtape as 'Corazon De Oro'. 'Luxury Riddim' is just pure luxury…I bought this new plugin that sounds like how a Maybach looks, and the track came from there. 'Sniper Redux' is a really special tune as it's a collab with my friends Kamixlo, Uli-k, and Blaze Kidd, and everyone killed it. We have shot a video with Jim Alexander which is coming out soon. There is also a Dinamarca remix which goes in so hard.
As well as working on solo music, you have been producing for Blaze Kidd. Do you enjoy working with vocalists? Do you have plans to work on more vocal material?
Yeah, Blaze is a g, I write a lot of riddims for him, he has that kevlar flow. I have also written beats for Uli-k who is a next level vocalist and producer, with a really emotional style. Got more work with both of them coming soon.
Looking forward, what else have you got coming up over the next few months? Any plans you would like to talk about?
The next EP is pretty much done, it's coming out on Trax Couture later in the year.
Can you talk us through the mix that you have put together for us a bit…How and where was it recorded? Is it a fair representation of what people can expect to hear from you if they go see you play in a club?
It's definitely got the same energy of my club sets, but a it's a more melancholy version though. I recorded it in my studio with a vestax vci-380. I move dumb in the club, I wanna clear the floor, and build it up again from scratch.
LIMINAL SOUNDS VOL.47: ENDGAME
DOWNLOAD: HERE
Chino Amobi – Broken Hearted Angel Unit
TCF – 8B2EE5327B5A
Lexxi – Less Perfect Condition
EndgamE – DI4U
ECCO2K – Guardian Angels ((No2))
Ynfynyt Scroll – Throw Away
EndgamE ft. Blaze Kidd & Uli-K – Corazon de Oro
Raphaael Vaaz – Chupa Chupa
EndgamE – Luxury Riddim
27 Kentjesz – Beatsz 8
Vybz Kartel – Ever Blessed (DJ Paparazzi Remix)
Ynfynyt Scroll & CZ – Danca Grave
Kamixlo & Lexxi – Demonic Yute
Anderson Teixeira TxiGa – Janemsel
Kamixlo – Paleta
E+E – Toocrunk Tribalosa
Lao – Lost Heritage
DJ Touchie N Musical Mobb – Bad Form 2 (Dexter Duckett Edit)
Venus X – Golden Girl
Paul Marmota x Yaga Mackie – Malianteo
Zutzut – Jala
DJ Oddz – Blade Runner
Big E.D – Gunshot Riddim
MC Marinho – Encaixamento Na Buceta
Novelist – Sniper
Montana of 300 – Ice Cream Truck
Violence – Mkultra
EndgamE – Trst Riddim
Palmistry – Pree
Photo credit: Jim Alexander