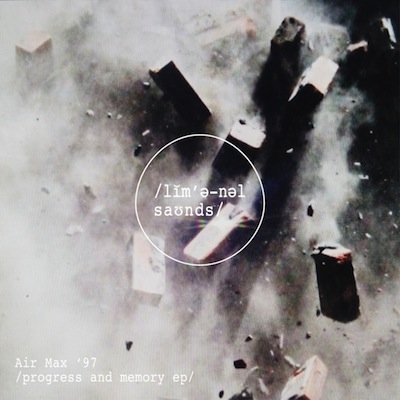 AIR MAX '97 – PROGRESS AND MEMORY EP
(LIMINAL SOUNDS – LMNL003)
1. Progress and Memory
2. Progress and Memory (Neana Remix)
3. Sleeveless
4. Peak Flow
Release Date: Mon 19th May 2014
Format: 12″ / Digital
We are extremely pleased to announce that the third release on the label and our first of 2014 will be the 'Progress and Memory' EP from Melbourne-based DJ and producer Air Max '97.
Through two self-released EPs, a selection of deftly reworked edits and a burgeoning catalogue of unreleased dubs, Air Max '97 has quickly asserted his flair for making fresh, inventive and deeply idiosyncratic club music, which he aptly describes as oblique club trax. Aside from the core understanding that his music is built to work on the dance floor, the Air Max '97 project is constrained by little else, and that feeling of stepping into the unknown is immediately evident on the EP, which is full of unexpected twists and turns.
Whether its the titular track's metallic percussive tint and astral synths, the bumping drum shuffle and rave-lit chords of 'Sleeveless' or 'Peak Flow's pumping rhythmic drive and warped sound palette, each track on the EP is sculpted with precision and finesse. Pulling unique grooves and high definition melodies into unusual structures, Air Max '97 has a fiercely unique way of attacking the dancefloor.
Completing the EP is a remix of the title track from rising talent Neana, who strips back 'Progress and Memory' and rolls out a rugged and ruthlessly effective club workout.