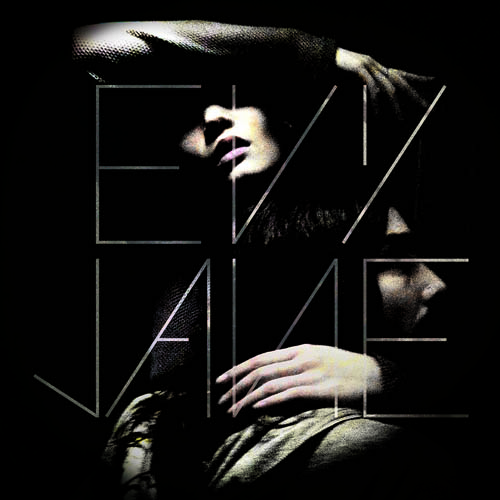 EVY JANE – EVY JANE
(KING DELUXE – KING010)
1. Evy Jane – Sayso
2. Evy Jane – Ohso
3. Evy Jane – Ohso (Max Ulis Remix)
4. Evy Jane – Sayso (Taal Mala Remix)
5. Evy Jane – Sayso (Julien Mier remix) [Digital Only]
6. Evy Jane – Ohso (Andy Dixon remix) [Digital Only]
Release Date: Mon 20th Feb
I have been keeping a keen eye on the Canadian King Deluxe label for a little while now. The label, which is home to artists like Alphabets Heaven and Fancy Mike (who I interviewed for the site late last year here), brings together an eclectic stable of artists under its umbrella with a focus on forward-thinking electronic music. The latest release from the label comes courtesy of experimental Canadian duo Evy Jane, whose self-titled EP is out digitally this week with the vinyl on its way early next month. Evy Jane is the moniker for the experimental collaboration between fellow Vancouver-based musicians Evelyn Mason and Jeremiah Klein. Joining forces on this 12″, their individual musical backgrounds collide in these two beautiful and haunting compositions.
'Sayso' is a well conceived slice of sparse, emotive and forward-thinking pop music. Framed by the stagger of the hollow kick and wooden snare snap, the wavering bass tones keep the track anchored down. Subdued chords paint rich hues across the track while Mason's soft, fluctuating tones give the track an almost painful sense of fragility and yearning. Echoes of richer instrumentation threaten to break through the track without ever fully forming, adding to the drunken haze that ties it together. The track is also accompanied by the beautifully evocative video which you can watch below. 'Ohso' is a richer, brighter counterpart. Emerging from the disorientating, texturally thick ether, it rides a similarly skeletal drum pattern that pivots around the lurching bass swells underneath while swollen buzzing synths burn out from the tracks core. Here Mason's vocals become stronger too, piercing through and rising above the waves of melody and brought into relief as the track is hollowed out into its rough-cut shell.
Fellow Vancouver resident Max Ulis takes on 'Ohso' brilliantly. Tying the track to the metronomic 4×4 kick and reining in the synths, he allows the vocals to find a new clarity as Mason's rich tones melt over the loose percussion. Never letting the synths unfurl fully, the track is motored by a tense, anticipative atmosphere. Staying true to the original in structure and arrangement, Taal Mala delivers a remix of 'Sayso', adding jutting, dubbed out chords and oozing bass tones that give it a dizzying spatial fluidity. The digital version also comes with two additional remixes. Julien Mier interprets 'Sayso', chopping it up and stitching it together into a fluttering, intoxicating arrangement while Andy Dixon flips 'Ohso' unleashing its latent RnB sensibilities with airy keys, autotuned vocal treatment and a crisp percussive edge, before taking it into darker territory with glitchy edits and heated bass tones.