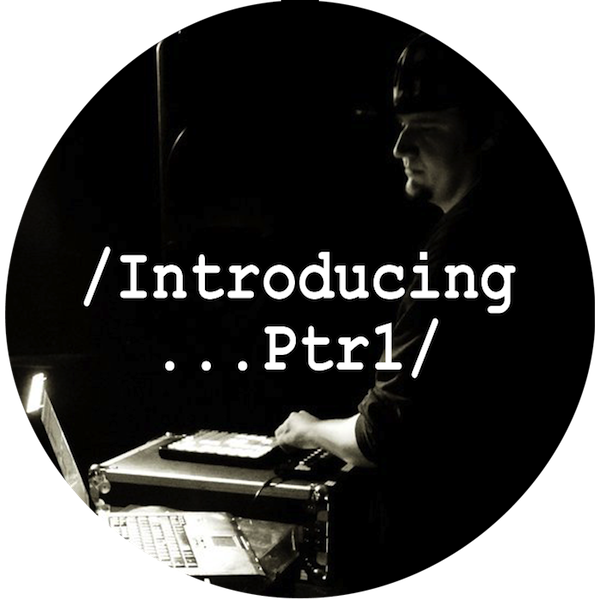 Having embarked upon this game of sonic Chinese whispers at the end of last year with Concrete Cut artist Deam, I wasn't exactly sure where it would lead or what I was hoping to get out of it, but having got off to an exciting start with his stellar contribution I had high hopes. He led me to fellow Polish producer Ptr1 as someone that I should check out. Immediately intrigued by what I heard I hit him up, and fortunately he has obliged in contributing the next chapter to the project…
As I mentioned in the Deam feature, Ptr1's music brings with it an incremental refraction in sound that opens itself up to a divergent tangle of paths and possibilities. While referencing simliar touchstones to Deam – 2-step, dubstep, hip hop – and finding a certain reflective headspace in common, he builds his music very differently. Where Deam's music has a crisp, otherworldy colour to it, Ptr1's music evokes something much more human, organic and greyscale.
Carefully building dense textural layers and immersive waves of ambience informed by his exploration of dub techniques and love of analogue gear, he sets his music in a deep, visceral context that immediately gets inside your head. What is initially driven by club constructs and soundsystem dynamics quickly gets skewed as it is filtered like a half-woken memory of a club. There is a poignancy and introspection that lies below the surface of Ptr1's music that tears it away from the dance floor, seeping through the tracks until it threatens to absorb them entirely. In the interview below he actually sums up pretty concisely himself the reasons why his music is so compelling, albeit not knowingly. As he says, "It's imperfect, human, warm, sometimes seems close to falling apart into little pieces…"
Releases on the aforementioned Concrete Cut label as well as Dubporn and Crude Records over the last couple of years have dipped in and out of this world, touching upon different musical touchstones while always resulting in an immersive experience. With a number of releases in the works for this year as well as looking towards an album, make sure you stay wired in to his movements over the coming months.
Below you can read the interview and he has put together an exclusive live set for Liminal Sounds which you can stream and download at the bottom of the feature.
Hi. Can you please introduce yourself?
Hi, my name is Piotr and I'm the man behind the sounds of PTR1. I come from Poland, city of Płock, and I make music.
When did you get in to production and what/who inspired you to do so?
I was always into music, played guitar a bit, but never was in any serious band. So for me the important moment was the beginning of the home recording revolution – when it became quite easy to get a decent computer and base my home studio on it, making music all by myself: programming drums, using a lot of samples, also recording some instruments. That was the breakthrough. As for people who inspired me, there were many of them but I guess one of the most important is DJ Shadow – I was under the influence of the whole abstract hip hop movement at that time and Shadow was the inspiration that pushed me into the direction of being a producer.
What have been the biggest influences over your music?
There are lots of influences, new ones appear from time to time… As I said I started with instrumental hip hop, quite quickly moved on to drum'n'bass and jungle, fell in love with faster broken beats and all the people like Squarepusher for example. I reached to some reggae dub and that was another breakthrough – all this space… Discovering dub techniques, looking to delay and reverb more as if those were instruments not effects and being a bit more minimalistic when approaching music – this is the lesson I learned from listening to dub classics. And of course bass – low, deep, warm, heavy but not rough, very pleasant to listen. Space and bass marked the direction for my productions in the later years. At some point came the discovery of dubstep, it was the beginning of 2007 I guess. Obviously, Burial was the no.1 inspiration, his first album was amazing. At this time I was familiar with ambient music, the IDM scene, enjoyed Autechre, Boards of Canada etc. but this was something else… The depth, the bass, all the intensive atmosphere. Another new level. Dubstep combined elements of dub, all the broken beat genres like UK garage or drum'n'bass so it was something very natural for me. For another two years it remained fresh and quite inspiring then it unfortunately evolved in the less enjoyable direction. My first dubstep productions were basically experiments, more or less successful, but I learned a lot thanks to them. I started playing live acts at this time also, first in a collab then by myself. That was the last serious breakthrough for me – at some point I just deleted a lot (almost all) of my old projects, I started buying new gear, vintage analog stuff, I redesigned my sound from scratch. This lead me to the place where I am now.
I'm not going to ask you to explain how your music sounds, but do you think there is anything fundamental to all the music you make? Any underlying threads that tie it together?
Space and bass, the two most important factors. Those are present in my every tune, no matter if it's some post-dubstep or post-garage stuff, or whatever you call this kind of sounds these days, a more downtempo tune with recorded guitars or something a bit heavier. The way I use the delays and reverb, all the background ambient noises and the analog warmth – because now most of the sounds in my tunes are originally analog, synths, guitars, effects… I guess the sound is far from some industry-standard perfection, it's imperfect, human, warm, sometimes seems close to falling apart into little pieces…
Does inspiration for your tracks ever come from other artistic disciplines?
I'd say that most of the inspiration comes from people, looking at them from the closer perspective – their behaviour, feelings, reactions… But yeah, you never know when you can meet inspiration, sometimes it's a photo or just some random painting on the city wall. The most of the interesting art is just out there, created by ordinary people, it doesn't need to be approved by some authorities and displayed in a gallery to have a huge emotional value and inspirational impact.
There is a lot of attention paid to atmosphere and texture in your music as well as rhythm and bass. How do your tracks begin life? Do you have any set processes?
Like you said, sometimes it's an interesting ambient texture I recorded somewhere in the city, sometimes it's a beat pattern, sometimes two notes played on a guitar… Nothing is constant and it's the same with my creative process…
To me, while your music is linked primarily to dance music, it doesn't feel like it built purely for the club. There is a poignancy and introspection that I hear lying below the surface. Do you think this is a fair assessment? And is this reflective of the way you make music?
Yeah, there are a lot of contradictions in music like mine. It originates from the club, whether it's UK garage, techno or drum'n'bass but then, somewhere in my head, it usually gets intensely filtered from all that is joyful and bright and what remains left is the dark, deep side of it. Therefore it eventually becomes a bit deprived of the dancefloor appeal, still the initial groove remains even if hidden under atmospherics, noise, crackle… And, there is bass. So I guess that's why some people still enjoy dancing when it's playing.
Do you think that being a live act as opposed to a DJ affects the way you make music?
Definitely, I actually used to dj a bit, couple of years back, usually playing all sorts of breakbeats, drum'n'bass, a bit of hip hop, then slowly introducing dubstep which was still new at that time and the crowd was very sceptical about it. I was making some remixes at that time, usually quite dancefloor friendly obviously. Then I turned more into production and playing my stuff live, and the focus wasn't the dancefloor anymore, though I usually play my live acts in clubs, with djs playing before and after me. The night's prime time may not be the most fortunate time for this music but still – it's live, it's supposed to reflect me as an artist and I can't get rid of all the background subtle sounds or ambient breakdowns because it would take too much important things away from my music.
How does your live act work?
The heart of it is my computer and a set of controllers. There are loops and samples in the computer, some are programmed, some triggered freely, by hand, additionally there are effects that I control live. Sometimes I leave the tunes close to their original arrangement, sometimes I change them totally, I have pretty much control of that. Additionally I sometimes play a synth, I experiment with using guitars and vocals live now… so this will also happen soon. I've never played the exact same live act twice, in spite of the obvious differences in the tune arrangements etc., the set of controllers, effects and other hardware or at least their programming used to change too. This is why I love it so much, it never gets boring even in the very technological aspect – there is always something new you can try, some gear of software you can use. It evolves with you, follows your ideas and at the same time encourages you to make some further changes, develop your concepts. Every kind of music should happen live, one way or another – there are affordable means, plenty of controllers, hardware and software to transfer every studio-based concept onto the stage. There are no excuses…
What have you got in the pipeline for 2012?
Actually my first release this year is already here – my remix of Polish folk-inspired electronica band Village Kollektiv is out exclusively on Juno. My tune 'Warmth' will soon be released on the second 'Exterritory' compilation, and I've got another one called 'Slow Down' forthcoming on Crude Records. And I'm now working on my new productions so I hope I can finally complete the first PTR1 album. It's about time after almost 10 years of making music : ) As for playing live – I hope I'll play some solo live acts later this year and I also hope that the open concept of those performances will be still as enjoyable for me as it was last year. Moreover, I've recently launched a new series of mixes called Nostalgic Throwbacks that will feature some interesting producers and djs, first two mixes done by ambient electronica producer Pleq and multi-genre beat specialist and great dj, Paide, are out now, more is coming. So it looks like I will be quite busy in terms of music.
Thanks so much for putting together a live set for us. Can you tell us a bit about the music on the set that you have recorded?
Well, music in this live set is representative for what I've been doing through most of 2010 and 2011 – deep dubstep, heavily infuenced by UK garage sounds with a lot of ambient backgrounds. Those tracks were released by such labels as Concrete Cut, Crude and Dubporn. There's also one exclusive, never before published dubtech tune called 'One Night'.
Who would you like to introduce us to as the next artist in the series?
This is a tough task. I know so many great artists… experimental heads from kIRk, Teielte, Shoju, Fau and Deam who you interviewed lately, Rhythm Baboon, Hatti Vatti, Think, 0311, Musley, Substep Infrabass… All those names deserve checking out, definitely. But if I have to choose one, I'll actually choose three – guys from kIRk. Deam also mentioned them in his interview for Liminal Sounds. It's probably the most original and open minded Polish project I know, way beyond any genre boundaries. They released a great record last year and are also playing live in many places around Poland. Check them out!
PTR1 LIVE MIX
DOWNLOAD: HERE
1. Intro
2. ptr1 – Comatose [Concrete Cut, 2010] 3. Liquid Molly – HDD (ptr1 remix) [Concrete Cut, 2011] 4. ptr1 – Elsewhere [Crude Records, 2011] 5. ptr1 – Let It Go [Crude Records, 2011] 6. Inanna – Cariad (ptr1 remix) [Dubporn Records, 2011] 7. ptr1 – Warmth [forthcoming Exterritory 2 compilation] 8. ptr1 – One Night [dub]
Total time: 27:06
All tracks recorded live by ptr1 exclusively for Liminal Sounds, 2012.