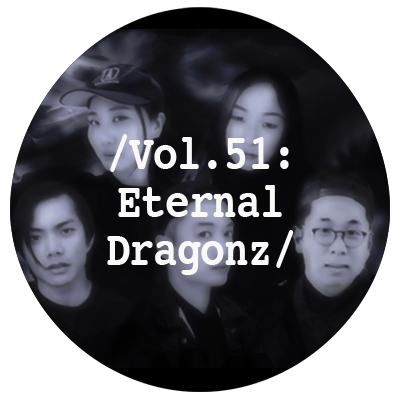 Earlier this year transcontinental collective Eternal Dragonz announced their presence to the world with the launch of an interactive website and the excellent free-to-download EP, 'Karaoke Vol.1'.
The group of multi-disciplinary artists, which counts producers, visual artists and writers amongst its number, all share Asian heritage and Western residency, and it is this experience that informs their work. 'Karoake Vol.1' is directly influenced by this cultural push and pull, pitting steel-edged club productions against clips of Asian pop stars ripped from YouTube videos, giving a nod to the experience of karaoke rooms that they grew up with.
With the project in its infancy, we caught up with V Kim to find out a bit more about the birth of Eternal Dragonz, what they've got planned and what their goals for the project are. We also tapped them up for the latest instalment of our mix series; compiling tracks from a selection of the crew, V Kim pieces together a thrilling mixture of club tracks and Asian pop edits that blends together these contrasting forces.
What and who is Eternal Dragonz?
Eternal Dragonz is a group of pan-Asian musicians / artists / creatives that live and work in the West. We were brought up Western and Eastern at the same time – but all share similar experiences. Jason Wong, Jenny Yoo and Lucy Chinen in LA; Eric Hu in Montreal, Canada; me in Sydney; and plenty more scattered across Asia, Europe and the USA.
How did the idea for the project first come about and how long has it been gestating?
It's been fermenting for a year! Jason was working for a record label in LA, and I work at an arts institution / venue here in Sydney. He got in touch after hearing my mixes on TRUANTS and The Astral Plane, both realised we were trying to do the same thing … on the other side of the world. So, we thought we'd bring our artists together and start something.
Your first release 'Karaoke Vol.1' was released as a free download via the Eternal Dragonz website. Can you tell us a little bit about the record?
Karaoke is an experience we all grew up with – butchering or serenading Alice Deejay, Lloyd and Usher and Mario, in a stuffy room mixing Cass and soju. I love singing other tunes over the instrumentals, so we had the idea of reinventing the karaoke room as an album. You can see it in the art too, which is a blend of karaoke rooms all over the world. And there's a little song book bonus in the download zip.
Why did you decided to launch the project in this way and deliver it in that format?
An album is the perfect way to flash all art forms. Most important to us was to create a website around the release which acts like an interactive karaoke menu.
What can people expect from Eternal Dragonz in the coming months?
We just debuted the first release of our mix series, EDZMIX001 with Malaysian producer, Moslem Priest and will continue rolling out more mixes from our artists and collaborators as well as continue the bootlegs we started with our 'Karaoke Vol. 1' release. Additionally, we are working on a publication series due out later this year.
What is the end goal for the project?
To make something that feels authentic to us.
Can you tell us a little bit about the mix you have recorded for us?
Eric, Jason, Jenny and I all picked a few tracks, and I mixed the final composition. You'll hear bits of our Chinese childhood with Eric and Jason (Mandopop/Cantopop and DJ Mystik tracks), I'll showcase a few of the artists on the label, and Jenny dips into '90s K-Pop.
LIMINAL SOUNDS VOL.50: ETERNAL DRAGONZ
DOWNLOAD: HERE
Tracklist:
Organ Tapes – XI BA LAN (稀巴烂)
scintii – papier
Shyno – Te Acuerdas
GD x TAEYANG – GOOD BOY (VK Edit)
Park Ji Yoon – 성인식 (Adult Ceremony)
Kohh – 死にやしない
NCT – Synchronization of your dreams
Young Gatt – Youth Gone Wild (A-Z-N)
温哥华说唱 – Rain Gang
유승준 – 가위
TAEYANG x 4 Strings – 4 WEDDINGS (VK Edit)
So Chan Whee – Tears
DJ Mystik – China (Mystic Remix)
DJ Mystik – Angel Of Mine
Lee Jung Hyun – 와
Masafumi Takada – Rave On (From 'killer7 Original Sound Track')
J. Sheon – 妖怪手錶 / ようかい体操第